AC Milan's new pre-match shirt designed by PUMA
Unfortunately, however, it did not bring much luck, confirming the Rossoneri's bad period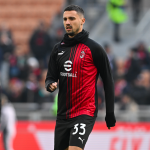 In the match against Sassuolo, which was in fact a bit of a derby as the two teams share the same technical sponsor, PUMA, AC Milan took the field in the warm-up with a new pre-match jersey. A jersey that it was hoped would turn the tide for the Rossoneri, who for several matches have been unable to find the concentration and nastiness that was needed to win the Scudetto last year. But beyond the result and the overall 90 minutes, the Rossoneri confirmed again the importance of an item like the pre-match jersey, sporting a new one for this start of 2023. The shirt obviously takes up the club's social colours and is basic black with the addition of red in one half. Not only the Rossoneri version though, the German brand has also made a second white and grey version with the same template that will surely be worn in the next match by Pioli's team.
A new release that for the moment has only been reserved for AC Milan, while the brand's other top teams have not yet been involved, and which once again confirms the importance of the pre-match shirt. An item that not only PUMA, but all the other brands, use to experiment and try new colours and patterns, with the intention also to create something that can be worn off the field, beyond the usual game jerseys.
The new jerseys are available here.