How jerseys will change in Serie A next season
Even more rules for teams and technical sponsors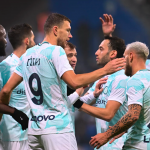 At the end of the year, as usual, the guidelines of the new Serie A kit regulations arrived, to be introduced from the 2024/25 season, but most likely to be adopted by teams and sponsors as early as next year. As with the ban on green first kits, the FIGC is limiting creative options for match kits by imposing additional regulatory requirements. For example, starting next season, teams will only be allowed to wear one jersey with vertical stripes, while the second must be solid-coloured, with solid-coloured shorts and socks. This will penalise teams defined as striped, such as Inter, Milan and Juventus, and force them to use stripes only on their home jerseys.
The third rule introduced by the FIGC is the strict alternation between lightand dark jerseys, as prescribed by FIFA. The visiting team must therefore compete with a colour palette exactly opposite to that of the home team in order to avoid the famous jersey clashes. The reason for this is the same as for the ban on green and solid-coloured jerseys, i.e. there should not be two teams on the pitch that cannot be distinguished in front of the television. The regulations for the goalkeepers' jerseys, which from next season onwards must no longer be two but three, at least two of which must be of a different colour to the movement players' jerseys, also go in this direction.
Finally, the new regulation introduces a provision on decorative elements on the jerseys, which may depict the club's crests or part thereof, the club's name, nickname or abbreviation, or a symbol that can be clearly and unambiguously attributed to the club, or represent a special celebratory event of the club and reflect figurative elements. However, such decorative elements must not contain letters, numbers or combinations of both, must not represent or be absolutely reminiscent of trademarks and/or commercial products, must be tone-on-tone, jacquard or embossed and will not be accepted if they detract from the colour dominance of the playing uniform.
New rules have also been introduced for the names and numbers of players and sponsors. The lettering height of the numbers on the jerseys must not exceed 30 cm, while on the shorts the limit is 15 cm. The letters on the back of the jersey, on the other hand, must not exceed 7.5 cm and colours that contrast with the background and are not fluorescent or reflective are not allowed. It is therefore a strict regulation that sets a clear direction towards the standardisation of Serie A jerseys, while at the same time limiting the creative freedom of clubs and companies. While on the one hand fashion and brands are experimenting with football shirts, the FIGC has chosen the path of normality to restore their value.