Haaland has already make the Manchester City jersey an icon?
The breathtaking impact of the Norwegian is having a knock-on effect on our perception of the kit
Javier Zanetti and Diego Maradona have a lot in common. Both enjoyed 17 year spells with the Argentine national team and spent the best years of their careers in Italy. Both captained their clubs to domestic and European titles, and both are considered icons of their sport. The status of "icon" is usually reserved for those who are champions at some stage of their career, but legacy and reputation are not based solely on medals or trophies won. Zanetti and Maradona are both undoubtedly worthy of such a status, although the ways in which they attained it were vastly different. There is possibly no greater model of consistency in football than Zanetti, his nickname of Il Trattore earned for his excellent stamina and tireless running. Disciplined in all aspects of his life, his devotion to training and keeping in shape resulted in a prolonged career, maintaining an impeccable level of performance into his late thirties.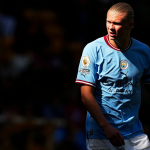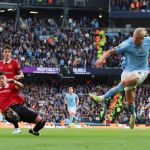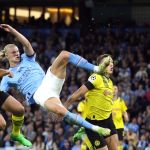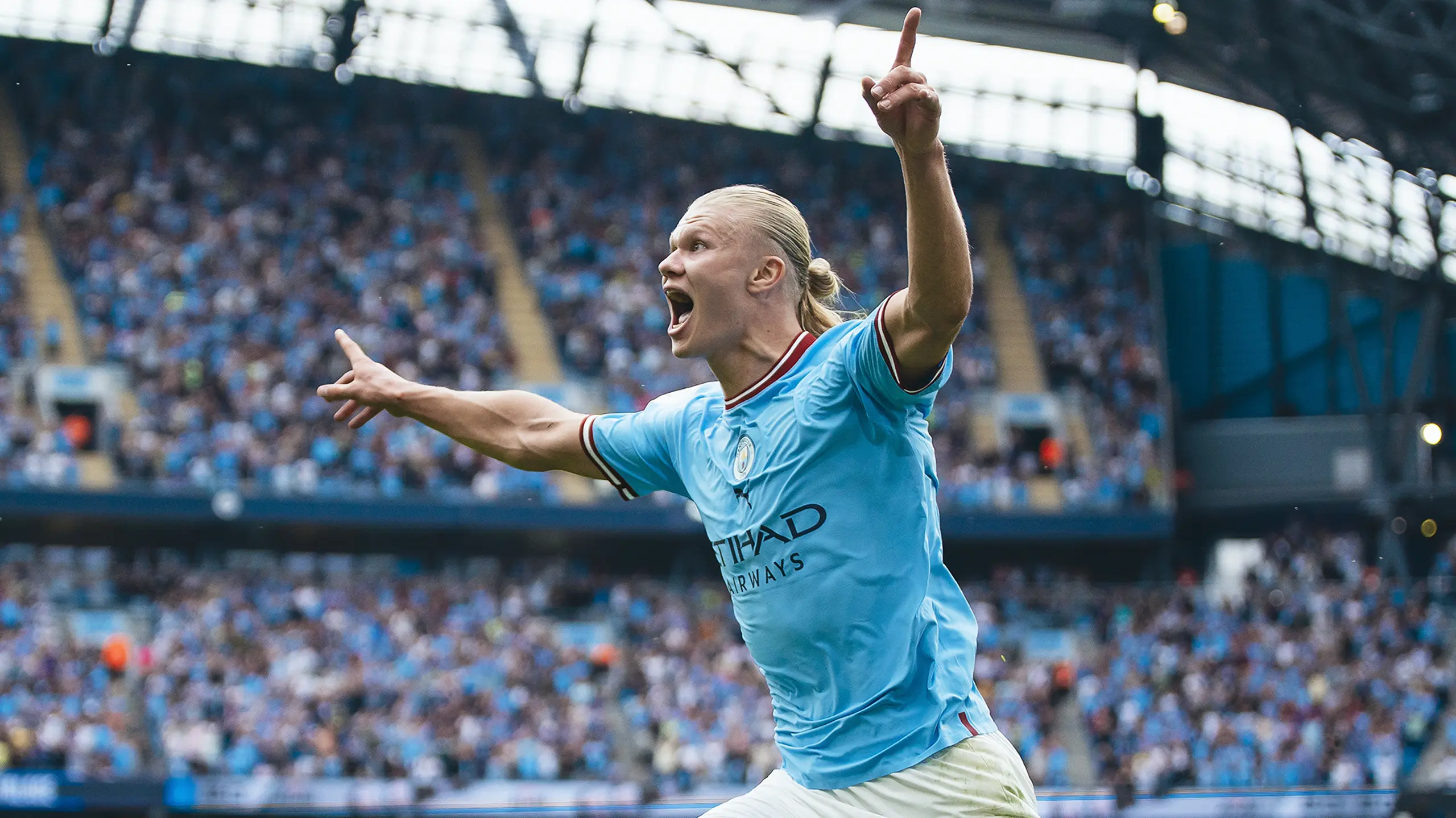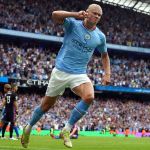 Maradona's style of play and personality could hardly have been more different to those of his compatriot. The ultimate flair player, brimming with confidence and natural ability, the joy he expressed through his incredible skill infected everyone who watched him play. This joyous nature was equally visible in his personal life, so much so that his partying exploits and festivity became as - if not more - well-known than his unique footballing talent, which burned brighter and more intensely than (almost) all who have become before and after him. Zanetti was not capable of what Maradona was, likewise El Diego would have been betraying himself if he had tried to take an approach similar to Zanetti. They each took different paths yet both are firmly established icons. Achieving greatness on your own terms is what elevates players to this status. Doing things in a way that cannot be replicated will always draw respect and admiration. In the Premier League this season, there is one player who is doing something the likes of which have never been seen in the modern game.
Erling Haaland arrived at Manchester City and almost immediately went about obliterating all existing goalscoring records. 22 goals in his first 15 matches in all competitions and three hat tricks in his first eight Premier League games are incredible stats, and that's without even mentioning his style of play. The ungainly way he moves his body should logically work against him. Instead, he has a lethal combination of speed, power, and anticipation which he uses to devastating effect. The Terminator/robot/machine jokes will keep coming, but as long as the goals do too, Haaland and City won't care in the slightest. It may be a little too soon to start calling Haaland an icon, but he is certainly well on his way. The duration of a pro career is generally somewhere from 15-20 years, so at 22 years of age, he has plenty of time to continue his excellence and he looks set on doing so. Something with a much shorter lifespan than a footballer's playing days, however, are the football shirts worn throughout them. For one to be considered a classic, the design and aesthetic are the all-important factors. To become iconic, something special is required.
It takes years of work at the highest level for a player to become an icon, but sometimes one match, moment or outrageous feat is enough for a shirt to claim its place in the hearts and minds of the football-loving public. In 1986, Maradona lifted the World Cup in a timeless blue and white striped number by Le Coq Sportif, yet the improvised dark blue away strip in which he put England to the sword in the quarter final is arguably more iconic. Scoring both the greatest and the most controversial goals in World Cup history in the same match had a helping hand in the matter, with videos and photos of those events being in non-stop circulation since the day they happened. Holland's 1988 home shirt is often ranked as the best ever, thanks to its innovative use of a geometric pattern and its shaded orange sections. Its beauty aside, it also instantly brings to mind Marco Van Basten's outstanding volley in the final of the Euro's. Another infinitely rewatched clip that is seared into the memories of millions around the world.
Haaland's rate of scoring is on par with these historic moments in terms of the incredulity with which they were met. The world was watching on both of those occasions, just as everyone's eyes are currently on the Norwegian. Photos and videos of him scoring and celebrating flood social media feeds every weekend as we collectively and repeatedly witness a phenomenon and ask ourselves how he is doing it. This repeated viewing is how images get burned into our brains, and the image in question here is a 1.94m striker in that sky blue jersey laying waste to all before him. The shirt itself ticks a few boxes too. Probably the best offering from Puma since they took over from Nike, the maroon collar and cuffs, along with the central placement of the manufacturer logo and club badge set it apart from the other home shirts in City's recent history. The one season kit cycle and multiple releases per year work against any shirt's chances of living too long in the memory, but nobody will be able - or allowed - to forget this blistering start from Haaland.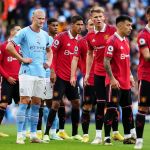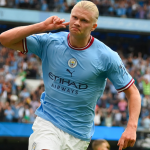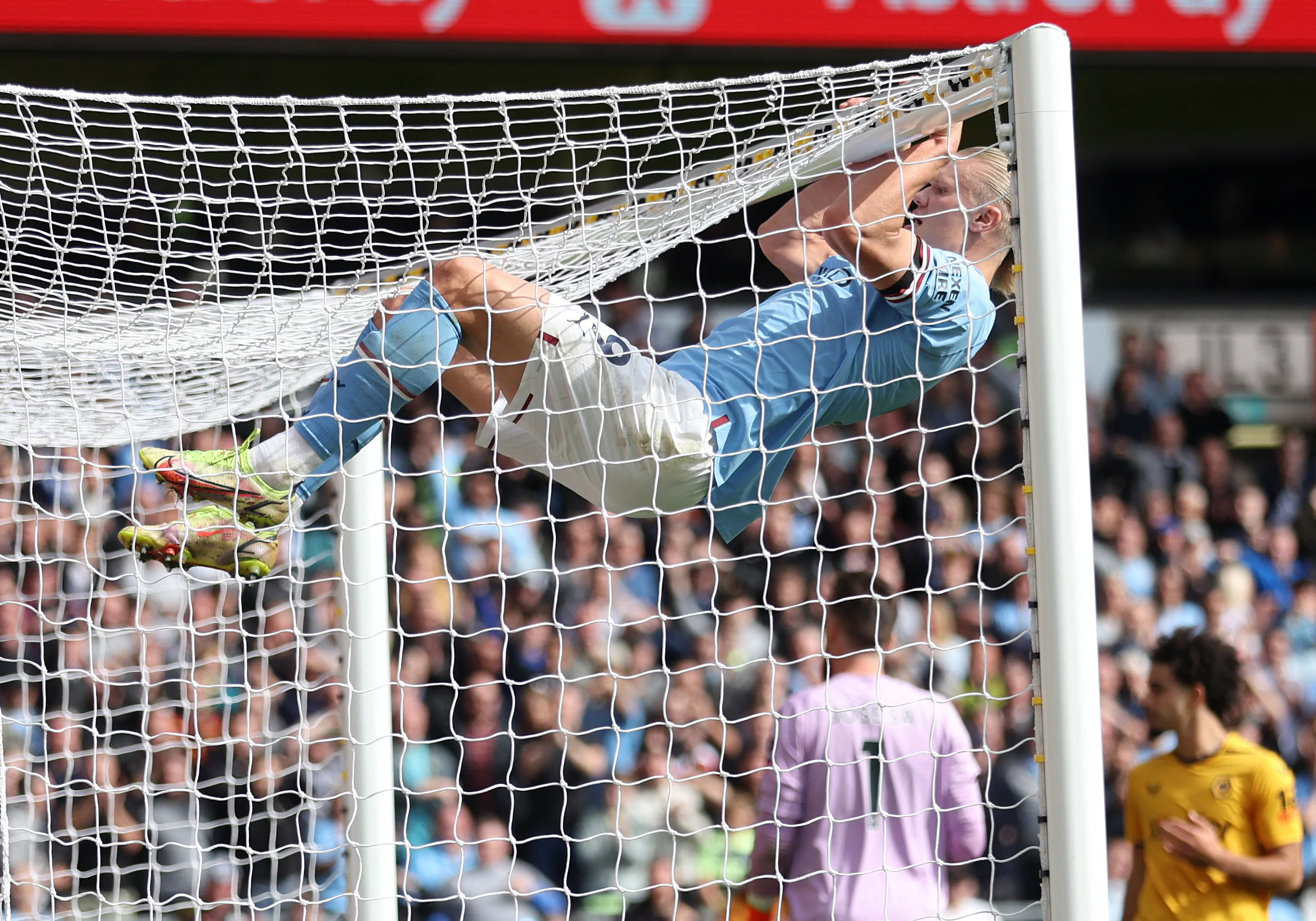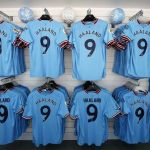 By association, this Man City jersey will also be remembered and held in high regard. It's not doing too badly in the present either. In the first two months of the 2022-23 season, the club have already sold as many shirts as they did in the whole of 2021-22. Sales are up 101% worldwide with record numbers sold in the USA, Germany, Sweden and Norway. It's not too hard to guess which player's nameset has proved the most popular. The jersey is also ripe with nostalgic potential; a hat-trick in his first Manchester derby and a jaw-dropping acrobatic finish against a former club in the Champions League are just two achievements whose magnitudes will only be fully appreciated with the passing of time, along with the sheer ridiculousness of his current statistics. Haaland will of course be judged on everything else that is to come, but what he's done in such a short space of time at his new club is astonishing. He shows no signs of slowing down either and with him in the team, the prospect of City finally getting their hands on the Champions League trophy looks more likely than ever. That would no doubt grant this season's home jersey iconic status, but Haaland's early impact may have already ensured it.