Atalanta's one hundred and fifteenth anniversary jersey
It will be worn Oct. 15 in the championship game against Sassuolo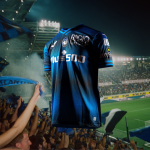 To mark the one hundred and fifteenth anniversary of its founding, Atalanta together with Joma has created a commemorative jersey that will be worn by the Bergamashi in the league match against Sassuolo on Oct. 15. Gasperini's team will celebrate the milestone with an extremely eye-catching design, with the classic black-and-blue stripes becoming thin until they almost disappear in the space reserved for the main sponsor and behind the shoulders. The Dea crest is placed in the center of the chest while Joma's is on the right with the second sponsor on the left.
Obviously on the sleeve is the anniversary commemorative patch while on the outer backneck is the words Atalanta Bergamo and in the inner one the slogan "The shirt always sweats." For the occasion the Birthday Match will be held, with a combined auction whose proceeds will be donated to charity.
The jersey will be available on the team's official store from Oct. 11, here.