PUMA's fastest ever event in Munich
We were there at the launch of the new ULTRA ULTIMATE with Kingsley Coman and other footballers
The concept of speed, the vector quantity defined as the variation of a body's position as a function of time, is something PUMA has always explored, pushing release after release, technology after technology any limit. A concept that is ingrained in the DNA of the German brand and that has now been translated into a new and innovative boot called ULTRA ULTIMATE, presented on Monday in Munich at a speed event with Bayern Munich winger Kingsley Coman, the fastest player in the entire Bundesliga Jeremie Frimpong, Paris Saint-Germain player Laurina Fazer and finally Union Berlin striker Sheraldo Becker.
Four players who have speed in their blood and who make this characteristic their best weapon and who obviously could only entrust the German brand with the task of constantly improving their performance on the pitch. This is confirmed by Frimpong himself, Bayern Leverkusen full-back and PUMA athlete, who during the interview reiterated the importance of wearing a shoe that enhances one of his main characteristics: speed. "For me running is everything, I don't have a particular secret, I run and I always try to train at my best, nothing more."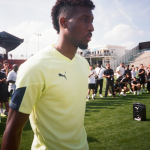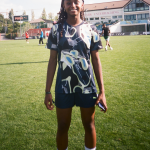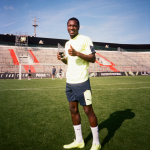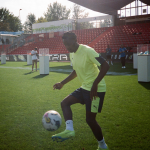 It's an easy task for PUMA, as we've been able to feel with our hands, or rather with our feet, since we were also called to challenge Coman and all the others present in Monaco in an afternoon full of challenges between sprints and accelerations with the ball and foot. A speed that has definitively reached a higher level thanks to the new generation of ULTRA, capable of turning seconds into records by fusing the new ultra-lightweight fabric upper with a redesigned sole for explosive speed. Gravity-defying ULTRAWEAVE technology is in fact PUMA's lightest and strongest material, launched a few months ago on the national team jersey, which has been reinforced with the latest PWRPRINT technology to offer ultimate stability and support.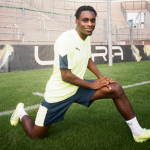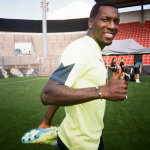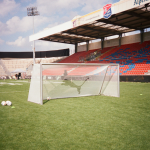 A shoe that, as confirmed by two of the designers from PUMA's Sports Team, took years and years of testing, and that before reaching the feet of the footballers was optimised and integrated to create something extremely lightweight, capable of allowing everyone from the professional footballer to those who enjoy a night out with friends, to be able to go faster and faster, leaving behind every possible opponent. After complicated optimisation, the material has also been enhanced with a TPU skin to ensure incredible durability with minimal weight.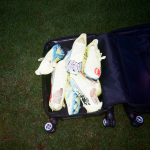 To make it even more special is the 5-D PWRPRINT technology, positioned in strategic areas of the boot and which really made us feel the difference. The two also explained in detail how this sole is intended to revolutionise the entire fit: "We added this micro-reinforcement to achieve optimal grip and support, while maintaining all the lightweight properties of the boot. ULTRA's sole is completely new, with a dual-density SPEEDPLATE outsole for superior traction. The result is a more explosive sole and a more responsive toe that provides greater propulsion and energy transfer when going from 0 to high speed."
It was an event based on speed but actually lasted an entire day discovering how PUMA managed to even reverse gravity, creating one of the lightest and strongest materials ever made in a mesh and now in the brand new ULTRA ULTIMATE.