Atalanta also presented their new jerseys
Joma as always to accompany Atalanta in the upcoming Serie A season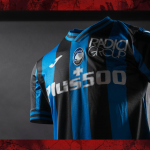 It will be Joma as always to accompany Atalanta in the upcoming Serie A season. The Spanish brand, born in Toledo and become over the years a real legend in sportswear, especially with reference to football, presented today the first two uniforms for the movement players and the first one for the goalkeeper. A partnership that has been going on for five years now, expressed once again in a very minimalist uniform with new and innovative elements. The main novelty lies in the round V-neck, and especially in the stripes, which lose their gold outlines compared to last year. A detail that will particularly please the fans, however, is the slogan 'The sweaty shirt always', on the inside of the collar, which refers to the culture of work and which the Atalanta players honour in every match by always giving their best. On the back, just below the collar, there is the writing 'Atalanta Bergamo', to underline the link between the club and its city.
As tradition dictates, the away jersey is, of course, white. A colour that has always been the protagonist of the away jersey but that this year will be accompanied by black and blue on the upper shoulders, on the collar and on the ribbed edges of the sleeves. The away shirt also features the phrase "La maglia sudata sempre" ("The sweaty shirt always") on the inside of the collar and the words "Atalanta Bergamo" on the back. The logo on the away shirt, on the other hand, will be the vintage one with the Dea running, embroidered in gold.
At last, together with the first two jerseys, the Lombard club also presented the jersey that Musso and his teammates will wear. The jersey will be black without any particular graphics, the only peculiarity being that unlike the other two, the goalkeeper's jersey is characterised by being made of 100% recycled polyester fabric.
The shirts are already available here.