Fans will design the Borussia Dortmund home kit for the 2023/24 season
In collaboration with PUMA, the initiative confirms the German club's willingness to involve its fans in the life of the team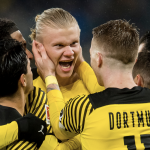 The Bundesliga is undoubtedly the European championship that best enhances the relationship between the team and its fans, from involvement in the Board of Directors to less imposing decisions, but which in the same way contribute to strengthening the identity of the club and the curve. Borussia Dortmund, always very attentive to this aspect, in fact has recently launched a competition that will allow its fans to design the kit, in collaboration with the technical sponsor PUMA, with which the yellow-black team will take the field in the home games of the season 2023/24. The press release on the club's website with which the competition was launched states that "every shirt in the 112 years of the team has helped to create the community of BVB fans around the world, connecting through stories and memories related to them," a testament to how soccer and its symbols have been and still are a powerful aggregator.


Everyone will be able to participate in the contest by accessing the club's website and downloading the template. The deadline is set for
February 6
. All the proposals sent will first be evaluated by a jury of nine experts that includes flags of the club as
Marco Reus
and
Dédé
, who will choose nine jerseys, and then the finalists will be put to the vote of fans to decide the winner. It's an initiative that brings fans and supporters even closer to their team, cancelling the distance that is often created, especially in the management of fundamental assets such as game jerseys. In fact, in recent years the jerseys, the symbol of a passion and a
community
, have seemed to be more and more marketing operations dropped on the fans from above. Borussia Dortmund wants to reverse this process.