Can Napoli change its logo?
De Laurentiis said he was in favour of the return of the Corsiero del Sole, which has been an emblem of the city for centuries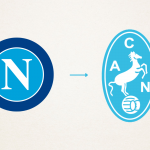 This weekend Aurelio De Laurentiis has publicly expressed his intention to change the logo of Napoli, returning the Corsiero del Sole. The idea was born after seeing the logo of Napoli Basket, a symbol that has been so successful and that the Neapolitan President also liked very much. The Corsiero has been the emblem of the city of Naples for centuries, from the Greeks to the present day, a symbol of the indomitable nature of the Neapolitan people, and believed to have been created by the Poet Virgil. During a presentation at the weekend, De Laurentis said he was willing to recover the horse, which is a symbol of big car manufacturers such as Ferrari and Porsche and which was already used as the logo by Napoli for just one year in 1926, when the club was founded.
Who knows, maybe next year there might be a horse on the Napoli shirt, accompanied by the famous circled N. A return to the past is very popular this year, several teams in Italy, but not only, have chosen to return to the old logos, such as Ajax or Fiorentina. The logo is now a functional aesthetic object no longer only useful for identification, over time it has become one of the most important and expendable assets, which is why today many clubs decide to renew their image. The last time Napoli revamped its logo was in 2006, when it opted for a blue shaded logo without any text, except for the "N", which is now perhaps too simple.