Massimo Ferrero arrest is the end of passionate owners?
Football in Italy was always characterized by his vulcanic personalities, but maybe it deserve better
In the last few days the sports world has been struck by the news of the arrest of Massimo Ferrero, known as the Viperetta, for aggravated fraudulent bankruptcy that has forced him, in addition to being under house arrest, to give up his role as President of Sampdoria. The news did not surprise many - Ferrero has never stood out for the clarity of his conduct nor for the calmness of his declarations - but it marks another turning point for Italian soccer, which loses one of its most intense protagonists. Ferrero, in fact, since he acquired Sampdoria for free from Edoardo Garrone in 2014, has always been noted for his unpredictable and fiery presence, from the interviews he has given to his cerebral choices in the market and on the bench. He himself, as soon as he was arrested, admitted that he was going to Dejan Stankovic to convince him to become the new coach of Samp.
A passion for bench changing that he shared with his opposite number in the red-blue half of Genoa, Enrico Preziosi, who has spent his eighteen years as president hunting down and taking back coaches as if they were old lovers. Not even a month ago he finalized the sale of the team to the American holding company 777 Partners headed by doctor Alberto Zangrillo. So Genoa loses in close sequence the presidents of its teams, two exuberant and chaotic personalities that, for better and often for worse, have characterized the sporting life of the city.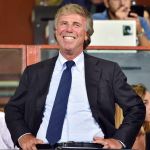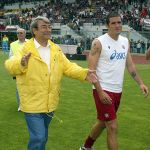 But it is not only Preziosi and Ferrero who are leaving the world of soccer, it is an entire category of despotic, centralizing, fanatical and irremediably fickle presidents who are slowly slipping out of the scene in favor of gray, anonymous and often overseas-based properties. For years now there are no longer Gaucci, Zamparini, Campedelli, Spinelli, Pulvirenti or Matarrese, but not even Berlusconi, Moratti, Della Valle to dominate the Sunday stadiums with their faces distorted by joy and anger as masks of a comedy. That immediacy, between the president and the team, that for decades has dominated the identity of the Italian championship and that now seems irretrievably distant, as if it belonged to another era.
A Copernican change that some Serie A presidents are resisting, for example Napoli and Lazio with their iconic and controversial owners, indicating that the Italian league can never abandon a central component of its DNA. As much as European soccer now imposes higher standards, aligned with those of large multinational corporations, there is still a strong sentimentality towards the passionate, bossy president. De Laurentiis' scooter escapes or Lotito's creative negotiations represent an ideal still rooted in the mentality of the Italian fan, who often lives soccer in a totally irrational and identity-based way. Just a few months ago a fringe group of Roma fans were begging Ferrero to buy the Giallorossi team because they wanted a Roman and Romanist president, as opposed to the current US presidency.
And this platonic idea of a presidency, ready to ruin itself in order to bring a champion to its own square and make the fans dream, is the exact continuation of that Italian entrepreneurship that is closer to accounting craftsmanship, made up of budgets closed with the change found in the pockets of old coats, until the inevitable bankruptcy. In recent years, there have been many stories of clubs, both large and small, that have suffered irreparable crises, also due to unscrupulous companies, managed as family businesses even when all signs were pointing to a reversal of course. Instead, many have continued beyond the maximum time limit, believing they could replace seriousness with passion. Crimes of love, but still crimes, which have had as victims the fans of the teams that have seen in the worst cases vanish into thin air their beloved companies and having to start again from the cadet series.
On the other hand, the new international and modern properties have shown that their actions are not always as clear as their profile would suggest. Inter's economic problems after the Scudetto and the recent investigation into the capital gains of Juventus have shown that there is no real way to operate according to the rules, and in many ways Italian soccer seems to be pinned to a mismanagement that then invalidates the quality and seriousness of the product.

We must therefore ask ourselves if soccer in Italy is mortally entrenched in such distortions no matter what dress it wears, be it the neutral and opaque facade of multinationals or the sanguine passion of the presidents in the stands, or is there another more sustainable way that also takes into account the role of the fans, as is being done successfully in England. Or if one Viperetta dies, another will soon follow.