Ultradelicious lands in Naples between football and food
The Spotify podcast by Maurizio Tentella arrives in a city where food and football are inextricably linked
Maurizio Tentella's journey to discover the two things Italians don't joke about continues: food and football. After taking us to Turin last Thursday, "Ultradelicious" now lands in Naples, a unique city where food and football are more than important and inextricably linked. The food selector and food critic has gone, as always, in search of unique places and products to eat and "StellaRI" restaurants, mixing culinary culture and fans, using unforgettable seasons as a narrative pretext. And a city like Naples was spoilt for choice: the Neapolitan capital is not just pizza, but a city that boasts a very ancient and varied culinary tradition capable of mixing haute cuisine with popular cuisine, up to the inevitable side dishes of all kinds and fried food, now street food to all intents and purposes. But as with food, Naples also has a visceral passion for football and in particular for Napoli Calcio, a club that has known the great bitterness of bankruptcy but also the taste of real success when during the years of Maradona it came first to win two Scudetti and a UEFA Cup.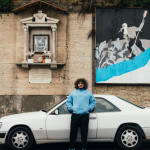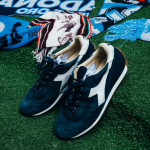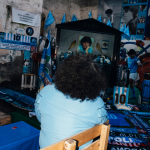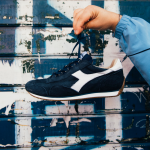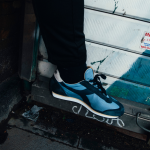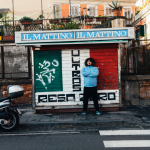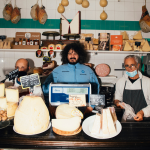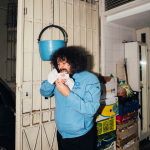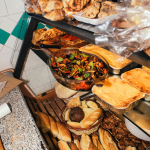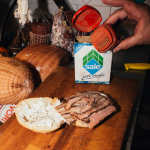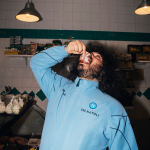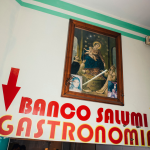 Between a first course at Osteria Da Tonino and small tastings at Salumeria Malinconico, where some of the photos were taken, Tentella told us about the city's culinary traditions and its unforgettable football seasons. He was accompanied by the skilful voices of Nu Genea, a duo of musicians who over the years have managed to collect the echoes of sounds that have touched the shores of Naples over the centuries and turn them into music. And to fully immerse himself in the context, looking for those flavours, smells and footballing stories in the alleyways of the Spagnoli neighbourhood, passing through Vomero and the Rione Sanità, the food critic wore two iconic tracksuits from the early 2000s when the Azzurri played in the Serie B, accompanied by a pair of Diadora Equipe shoes.
We had a chat with
him
to find out what flavours link
Naples
with its food and football.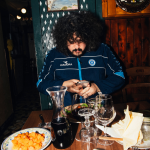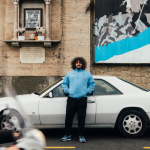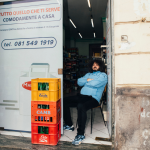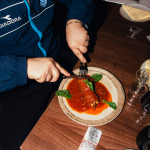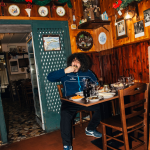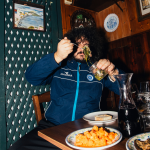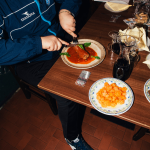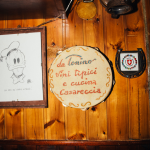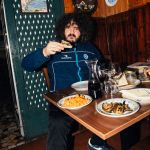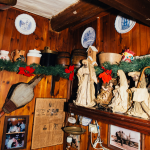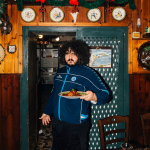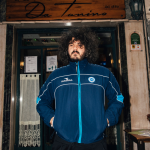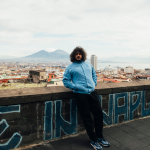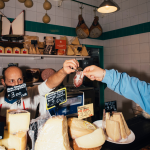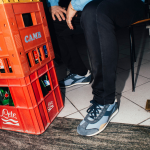 Going from a typical Napoli product like Lorenzo Insigne to a DOC product from Friuli like Meret to Lozano's tacos and Kalidou Koulibaly's Thiebou djen. If you wanted to encapsulate this top-ranked Napoli team in a dish, what would it be in your opinion?
The gattò. Etymology from the French gateau, "sweet". More correctly translated as 'potato flan' one of my favourite dishes of all time. This Napoli dish is blended and tasty just like a freshly baked gattò.
In a city like Naples, football and cuisine are inextricably linked, just think of the Quartieri Spagnoli, where on one side there is the famous mural dedicated to Maradona while in the surrounding alleyways all kinds of dishes are prepared, from haute cuisine to the most popular, which player reminds you more of the former and which of the latter?
Osimhen reminds me of a spaghetti with Colatura di alici di Cetara from the Amalfi coast, finishing the game by bagging a nice baba. He has a very particular rhythm in his legs, almost funky, like those dishes that hit your taste buds with a deadly one-two, like the bass lines of certain Neapolitan songs that jump from one style to another while remaining typically Neapolitan, like a song by Nu Genea (who, by the way, are guests on the episode of Ultradelicious set in the city).
Koulibaly, on the other hand, makes me think of popular cuisine, bread bread wine: as concrete as a potato croquette and a pasta omelette when you're really hungry.
Naples is also a multicultural city, a city where Diego Armando Maradona's asado has been universally adopted putting tradition aside for a moment, a dish that has undoubtedly written one of the most romantic stories of Italian football. What were the perfect ingredients of those seasons?
I may be obvious and banal, but I believe that the ingredients were LOVE and PASSION in a city like Naples are manifested in a unique way: it is something unparalleled, which can not be compared to any other city in the world. Plus, add the God of football: it's like taking a bite out of a 3kg mozzarella.