Back in time when Nike made Champions League balls
Even before the adidas - UEFA duo, the swoosh was the star of European nights
A few days ago adidas and UEFA officially extended their partnership until 2024. The German brand will still be the protagonist in European club and national team competitions, but before the monopoly of the three stripes began in 2001, few will remember the three seasons in which Nike was a partner of the Champions League. It was undoubtedly a different sport, far removed from today's mechanisms, there was no goal line technology, no VAR and no tools to narrate and experience football as we do today. Only a few years had passed since two changes that have remained in the history of the competition, the change of name (from the Champions League to the current one) and the introduction of the group stage, when UEFA decided to rely on the American company that with its balls accompanied all the clubs to the conquest of the cup from 1998 until 2000.
Balls with a simple design, still without the famous stars of today that have characterised and defined the aesthetics of the famous European competition since 2001. Three balls that inspired the design of Nike's latest arrival, the AerowSculpt ball used in domestic leagues from Serie A to the Premier League. Presented at the time as the roundest, fastest and most accurate ball ever, the GEO model, transformed in 2001 into GEO Merlin, was the American company's flagship model.
Nike NK 800 Geo | 1998 - 99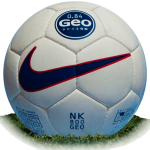 Although football was not yet contaminated by all the mechanisms of today, the kits of the 90s have gone down in history for their extravagance, the Nike ball was simplicity made ball. A clean design for an all-white ball featuring the strictly Champions League blue Nike logo accompanied by a red border.
Nike NK 800 Geo | 1999 - 00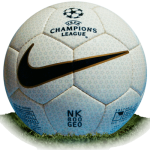 In 1999 Nike opted for a more articulated design that would come close to the big stars found in the balls produced by adidas today. The swoosh did not abandon the Geo model, giving new life to an iconic ball with only a new design. The Geo of 1999 is distinguished by its small, almost transparent stars accompanied by the logo, this time in black with a gold border.
Nike Geo Merlin | 2000 - 01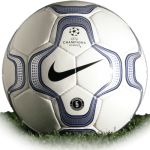 The revolution finally arrived in 2000, when Nike released the new Geo Merlin, the same one used in the English league, which marked the beginning of another relationship between the swoosh and the Premier League. Known as the roundest ball ever, Merlin was characterised by its simple yet intricate design, forming a sort of rhombus but without corners.