Nike's new ball for the 2021-22 Premier League season
AerowSculpt technology and a new design for Nike's aerodynamic ball
Nike has unveiled the new ball for the upcoming Premier League season. A ball with a bold design, based in white, accompanied by black and crimson patterns that follow the spherical shape and make it even more eye-catching. A design that looks and feels a lot like the 2018 Mercurial 360 designed by Virgil Abloh, from which the circles that appear throughout the design are taken. Perfected with over 8 years and 1,700 hours of testing, Nike AerowSculpt technology will be used for the second year in a row. A revolution for uniform trajectories that will further enliven a league that is already one of the best in the world.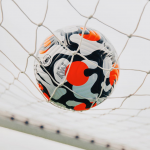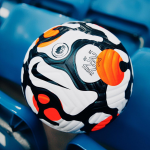 With contoured grooves and 3D ink-printed graphics, this aerodynamic ball is designed for stable flight and enhanced trajectory. In addition, ACC (All Conditions Control) technology adds a grippy texture so you get an equal touch whatever the conditions. Based on last year's model, Nike is ready to revolutionise the game.
The ball will be available from 15 July on the Nike website and in selected stores.