The new adidas campaign is version 2.0 of "Impossible is nothing"
17 years after the first commercial, Pogba, Gnabry and Salah replace Beckham and Messi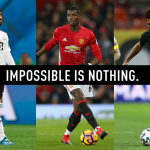 After the return of Nike's "Secret Tournament" and the Joga Bonito series, adidas has also dusted off a great classic. The historic claim "Impossible is nothing" returns to be present on all social accounts of the three stripes exactly 17 years after the first commercial. The new campaign of the German brand foresees, just like in 2004, short-films - there will be about 20 in total - that tell the attitude of adidas: see possibilities, be optimistic and never stop in front of obstacles. The concept is extended to the most current issues such as environmental sustainability and gender equality in sport. They take the place of David Beckham and Lionel Messi champions such as Paul Pogba, Serge Gnabry and Momo Salah.
But the adidas campaign is not only linked to the world of football. All the sports activities in which the brand invests were involved: from basketball with WNBA players to gaming with Tyler Blevins aka Ninja, from volleyball with Tiffany Abreu (first transgender athlete of the Brazilian Superliga team) to running with Hima Das, from rugby with Siya Kolisi to star like Beyoncé.
The commercials take the same format as the original version, with unedited videos of the protagonists as children who dream of reaching the summit. A strong and powerful narrative that adidas has decided to re-exploit to convey an important message: from dreams to reality, always believing in one's own possibilities and never stopping.
The inspiration is Cassius Marcellus Clay, aka Muhammad Ali, who for the first time gave weight to one of the dogmas of sport: "Impossible is just a big word thrown around by small men who find it easier to live in the world they've been given than to explore the power they have to change it. Impossible is not a fact. It's an opinion. Impossible is not a declaration. It's a dare. Impossible is potential. Impossible is temporary. Impossible is nothing". In 1974 adidas, also facilitated by a sponsorship contact with Ali, made the concept its own and transformed it into the claim of the brand thanks to a campaign involving the boxer and his daughter Laila. It will be resumed 30 years later with the "Long Run" commercial, a classic morning jog in which a young Cassius Clay, Zidane, Beckham, McGrady, Thorpe, Gebrselassie and Green participate. The rest is history.