The Pantone colors of the Liga jerseys
What colors appear on the jersey of your favorite Spanish team?
La Liga is always difficult to classify. When a duopoly lasts for so long (37 of the last 50 national titles are on the museums of Real Madrid and Barcelona) it becomes difficult to appreciate the quality of football. The exploits of Atletico Madrid, Athletic Bilbao, Valencia and Real Sociedad look more like fairy tales with a happy ending than real attempts to dent the domination of blaugrana and blancos. Yet the Spanish league has seen on its lawns the best players of the game of the last 40 years and in the last 30 years has known the beauty of 17 players who have won the Ballon d'Or. The spectacular nature of football will not be directly proportional to the balance of the rankings, but will be directly proportional to the design of the most iconic "camisetas" in La Liga. The Pantone system, once again, will help us understand which colors are hidden behind some of the most beautiful shirts in the Spanish league.
Athletic Club
Kit: 2011-2012, second kit
Pantone: 7480 C, 185 C, White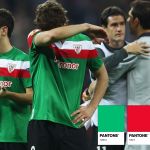 Club Atlético de Madrid
Kit 1: 1997-98, first kit; Pantone 1: 185 C, 534 C, White
Kit 2: 1997-98, second kit; Pantone 2: 532 C, 185 C, White
Kit 3: 2010-11, second kit; Pantone 3: 2935 C, 185 C, Bright Red C, White
Kit 4: 2018-19, third kit; Pantone 4: 7690 C, 7458 C, 1225 C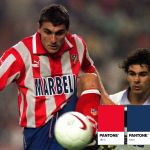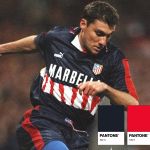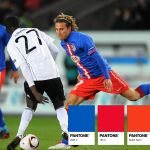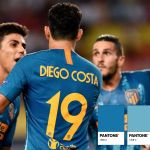 Fútbol Club Barcelona
Kit 1: 2004-05, second kit; Pantone 1: 406 C, 432 C, 1795 C, 7688 C, 533 C
Kit 2: 1996-97, third kit; Pantone 2: 325 C, 5483 C, 1795 C, 7686 C, White
Kit 3: 1999 (Centenary kit); Pantone 3: 1795 C, 7686 C, 7547 C
Kit 4: 2018-19, second kit; Pantone 4: 169 C, 710 C, White, Black C
Kit 5: 2001-02, second kit; Pantone 5: 5807 C, 533 C, Red 032 C, 7687 C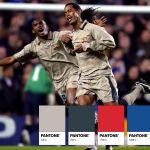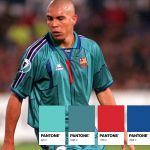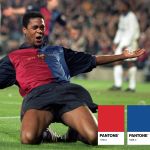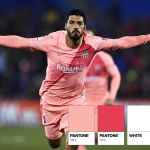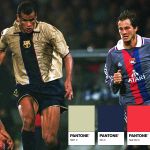 Real Club Deportivo de La Coruña
Kit 1: 2015-16, first kit; Pantone 1: 7687 C, White, 485 C
Kit 2: 2015-16, second kit; Pantone 2: White, 279 C, 485 C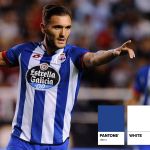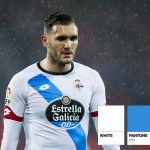 Real Club Deportiu Espanyol de Barcelona
Kit: 2019-20, third kit
Pantone: 7436 C, White, Black C, 2728 C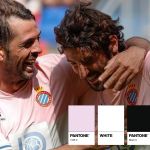 Getafe Club de Fútbol
Kit: 2018-19, first kit
Pantone: 2727 C, 7687 C, 485 C, 108 C, White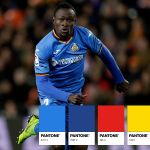 Real Betis Bolompié
Kit: 2018-19, second kit
Pantone: 626 C, 7482 C, 616 C, White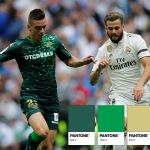 Real Madrid Club de Fútbol
Kit 1: 2016-17, second kit; Pantone 1: 2665 C, White
Kit 2: 2013-14, third kit; Pantone 2: 1575 C, Black C
Kit 3: 2017-18, third kit; Pantone 3: 7698 C, 432 C, White, Black C
Kit 4: 2011-12, second kit; Pantone 4: Black C, 466 C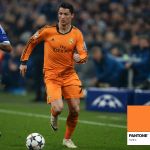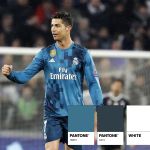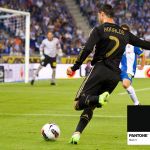 Sevilla Club Fútbol
Kit:2016-17, second kit
Pantone: 7409 C, 1955 C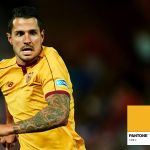 Valencia Club de Fútbol
Kit 1: 1999-2000, second kit; Pantone 1: 182 C, White, Black C
Kit 2: 2019-20, second kit; Pantone 2: 137 C, 172 C, Black C, White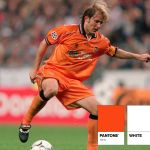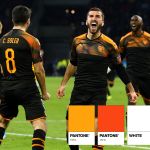 Villarreal Club de Fútbol
Kit: 2017-18, first kit
Pantone: 609 C, Black C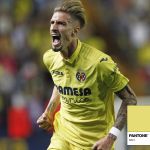 f