Virgil Abloh joined Nike to redesign a basketball court in Chicago
Not only trends creator: the designer worked with the American brand on a basketball center during the ASG 2020
In the last period Nike has paid particular attention to facilities and above all basketball courts, which represent a gathering place - and a strong sense of community - all over the world. We had recently talked about the new Barack Obama Presidential Center and the pitches unveiled in Beijing, Mexico City and Paris, in collaboration con Stephane Ashpool's Pigalle.
This weekend in Chicago it's All Star Weekend time and Nike will exploit this event not only to drop new sneakers, but also to improve the life of the young people of the host city with the help of Virgil Abloh, a native of Chicago. In fact, Abloh and Nike have partnered with the Boys and Girls Club to completely renovate the facilities, both sporting and otherwise, of the Martin Luther King Jr. center in East Garfield Park in Chicago. By renovating the court, the locker rooms and the arcades, Abloh and Nike aim to provide a positive space for children to play in the neighborhood.
With a combination of green and blue colors and the quotation marks typical of Off-White™ that accentuate its shimmering wooden floor, the new court gives a real glance. However, the renovations do not only concern the parquet. Nike will also create an "All-Star Academy" within the facility, offering learning opportunities in the fields of sport design, science and journalism.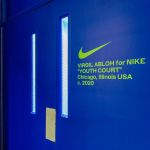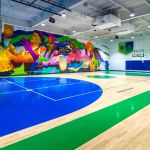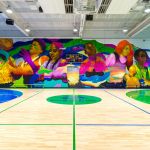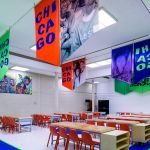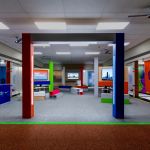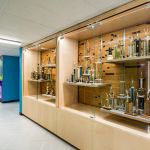 Abloh - who grew up two hours away from Windy City - has long supported the Chicago youth community, so much so that the Boys and Girls Club is his second project for his city: in 2019 he had already collaborated with NikeLab Chicago for the creation of a Re-Creation Center where a seminar was held focusing on the sense of belonging to the community. As stated by the Louis Vuitton designer:
"This new field and all planned activities not only continue the work started with the inauguration of the Re-Creation Center, but also provide a positive and free space for children to engage in activities rooted in sport that will lead to a healthy lifestyle. and active and they will teach the teamwork and determination it takes to succeed".