The football boots used by the top Serie A strikers
What do Cristiano Ronaldo, Ibra and Lukaku usually wear?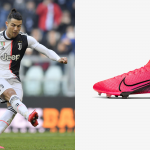 We thought about it in recent days, after seeing the new Predator Mutator 20+ up close: if for many famous footballers it's almost useless to specify the name of the boots they wear, because it's well known, for many others it's not so obvious. So we wanted to focus on Serie A, where 91.1% of footballers wear Nike (55.4%) or adidas (35.7%) and on the biggest goleadors: what shoes usually wear the top strikers of our league?