Nike has just unveiled the new Nigeria jerseys
And once again, those of the African team are not normal jerseys
The one presented in 2018 has become one of the most iconic football jerseys of all time, pre-booked by millions of fans from all over the world and inevitably ended up in the list of the 10 most important jerseys of the decade 2010-2019. The success was probably due to Nike's strategy, for the first time capable of the right creative approach to the shirt of a football federation. Almost two years later, after extending the contract with the African team, Nike presented the two new Nigeria kits, Home and Away, together with those from the United States and South Korea at the Nike Forum 2020 in New York.
Like as in 2018, perhaps even more, the connection between the symbols of Nigerian culture and tradition and modern taste was well-linked, with hand-made prints: the Home Kit, where there is a lot of space for white together with the green of different shades, it's inspired by the colors and motifs of the Agbada, the wide-sleeved tunic worn very frequently in the area of central-western Africa, with the coat of arms of the Super Eagles and the Nike Swoosh positioned in the center. The Away version, on the other hand, is only apparently banal but hides a very refined aesthetic, inspired by the local artistic movement of Onaism with a pattern composed of eagle feathers that are continuously repeated with increasing dimensions on a darker color base, where you immediately notice the detail of the collar and of the ends of the sleeves.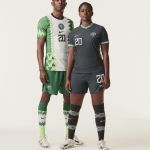 In the coming days, as has already been announced, also the new Naija collection will be unveiled, even more interesting than the previous one: it will contain a wide range of clothing including a poncho, a vest, a dress and much more.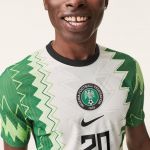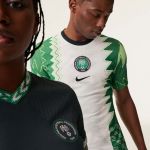 Stay tuned on nssmagazine to know the release date of the new Nigeria shirts.