The 10 most beautiful goals of Serie A 2018/2019
From Quagliarella to Belotti through CR7, Muriel and Gervinho: many gol, all different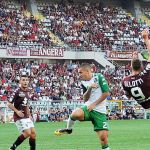 Serie A has been over for a few days and we are still in that moment of semi-resignation, as we will have to wait almost three months before the 2019/2020 league starts again and we have not yet metabolized the situation. We have seen a lot of goals (in total they were 1019), and we missed some of these by force of circumstances. The top goals, on the other hand, we have not forgotten at all: we have chosen (was not easy!) the best ones, the ones that we liked the most, with bicycle kicks, heels and shots from outside the area. Since it was impossible to draw up a ranking, we have listed them in chronological order, from August 2018 until May 2019.
27th of August, 2018: Javier Pastore (AS Roma) vs Atalanta
The Flaco's first part of the season seemed amazing, but it was a great bluff. The two goals by heel (the other against Frosinone), however, two true gems.
2nd of September, 2018: Fabio Quagliarella (Sampdoria) vs Napoli
The top scorer of the league has scored in every possible and imaginable way: against Napoli the most beautiful of the 26 goals that have crowned him king of the strikers.
22th of September, 2018: Gervinho (Parma) vs Cagliari
The Ivorian trademark: the slalom starting from its own half of the pitch without getting caught by the opposing defenders.
27th of October, 2018: Cristiano Ronaldo (Juventus) vs Empoli
The Portuguese star finished with 21 goals in the league, and against Empoli he undoubtedly scored the most beautiful.
26th of December, 2018: Nicolò Zaniolo (AS Roma) vs Sassuolo
We have not forgotten the first goal in Serie A for the AS Roma's youngster, above all this one: running and then coldly touching below to mock Consigli.
20th of January, 2019: Luis Muriel (Fiorentina) vs Sampdoria
As soon as he arrived from Seville, the Colombian started the second part of the season really good: a brace against his former club to rub our eyes.
16th of February, 2019: Krzysztof Piatek (AC Milan) vs Atalanta
The Polish was certainly among the biggest surprises of the season, managing to score at least 10 goals with both Genoa and AC Milan, also thanks to this kind of goals.
30th of March, 2019: Rolando Mandragora (Udinese) vs Genoa
Another goal with a former team impossible to forget was that of Mandragora, who is one who scores almost never but when it succeeds is often a beauty.
27th of April, 2019: Radja Nainggolan (Inter) vs Juventus
The goal that literally folded Szczesny's hands: coordination and knocking from a real champion against the team that he always repudiated.
12th of May, 2019: Andrea Belotti (Torino) vs Sassuolo
In the second part of the season Gallo scored a lot, dragging Torino to a sensational ride for the Europen places: against Sassuolo the most beautiful goal of his season.
Bonus
24th of February, 2019: Luis Muriel (Fiorentina) vs Inter
We could not not insert a free-kick: between Milik, Bruno Alves, Suso and Mertens, however, we decided to reward Muriel again, for this aesthetically perfect shot.