The new Prane Paris capsule inspired by "Il Fenomeno"
The 90s vibes and a memorable hairstyle in the new French brand collection
Prane Paris, a French streetwear brand that took inspiration by the world of football, has chosen as its reference for the new capsule collection a huge football legend, Ronaldo Luis Nazario de Lima, the "Fenomeno". This is the name of the collection, which is inspired by the years in which Ronnie was in maximum strength, from 1998 to 2002, from the UEFA Cup won with Inter, up to the World Cup in Korea and Japan, won with two goals in the final.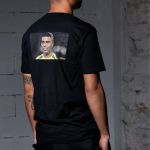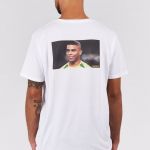 The Parisian brand that is well identified in the style of the typical French suburbs, has re-thought with street vibes the soccer jerseys, a trend common to many designers during the past fashion weeks. Prane Paris has thus renewed the structure of the historical Umbro jersey of the 1997-1998 season, with gray and black bands, in this case, vertically, differently respect to the original model. the concept has also been reworked the symbols of the Inter of those years, as the sponsor Pirelli, from 1995 until today present on the black and blue jerseys and in this case modified to make it "fenomeno". On the chest to the right is set the Nike logo, a further variant of the 90s jersey, while on the left, inside the green-gold crest, are inserted the letters "prn.9". The jersey has been made both long-sleeved and short-sleeved and is just one of the three elements of the capsule, completed by a black cap with the writing "fenomeno" and a tee, both white and black, with the print of Ronaldo and his memorable hairstyle during the 2002 World Cup.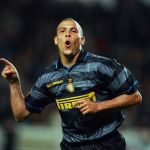 The capsule is available on Prane Paris online store.