New Nike Mercurial x CR7 boots
Here's the 7th and last version of the CR7 Chapter, the Nike shoes' series created only for the Portuguese champion
In 2015, Nike launched the first CR7 Chapter, a line of seven football boots designed for Cristiano Ronaldo, retracing his path as a player, each playing an important piece of the career of the Portuguese champion, using different colors. Three years later, we arrived at the last piece of the collection: the Nike Mercurial CR7 Chapter Seven. The shoes shows a confident and aggressive look, like the champion which are wearing them. The bright red leans up to the beginning of the lower part of the boots themselves, where the gray begins to appear. There's also a black swoosh then overhangs the whole thing. The black, however, is also repeated on the heel, while the studs fade into gray. Finally the laces, in the same color as the upper, are red.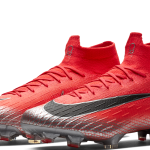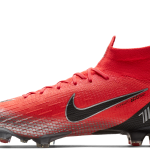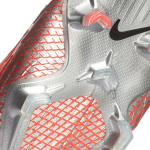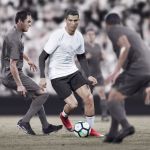 Chapter 7 comes after the Chapter 6: Born Leader, a special edition released in March 2018 to celebrate Ronaldo's leadership in the Portuguese national team and his status as a symbol of an entire country. Famouses then the Chapter 5, 1 and 3, dedicated respectively to the glorious passage of the champion from Manchester United to Real Madrid, to the natural beauty of the the island of Madeira where CR7 was born and to his last match with Sporting Club against Manchester United, the team that would have changed his life.
The shoes will be available online starting September 20, and we'll see if this evening, in occasion of the first European match of the season against Valencia, CR7 will wear his new and special boots.