Serena Williams played at Roland Garros wearing a Black Panther catsuit
The American tennis played is come back to play a Grand Slam match after more than a year with an astonishing look
One of the highlights of the Roland Garros just started is undoubtedly Serena Williams' comeback, who after attending the Royal Wedding has returned to play a Grand Slam match after over a year of absence, due to pregnancy. The American champion, on the threshold of 37 years, won in two sets the debut match against the weakest of the sisters Pliskova, Krystina, but there was more to discuss the outfit with which played: a black suit almost integral, with a red sash at waist height.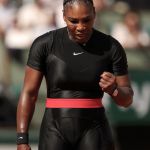 The design of this catsuit obviously made by Nike has allowed her to reincarnate in a black panther, or even in a superhero, as she said in the post-game: "I feel like a warrior wearing it, a queen from Wakanda [referring to the Black Panther movie] maybe". But in reality it is not a simple fashion statement thought up for marketing reasons: if Serena wore this tight jumpsuit on a hot day like yesterday in Paris (around 25 degrees), it was mainly for health reasons. Serena has repeatedly admitted that the birth from which the baby Alexis Olympia was born has been more troubled than expected (for example, due to unexpected blood clots) and hence the need for a dress that is totally functional to its recovery, physical but also mental. The value of this choice is even bigger because, as we read from Williams' social accounts, she wanted to be the champion of many mums all over the world, becoming almost a model. His dedication: "For all the moms out there who had a tough recovery from pregnancy—here you go. If I can do it, so can you. Love you all!!"
Catsuit anyone? For all the moms out there who had a tough recovery from pregnancy—here you go. If I can do it, so can you. Love you all!! pic.twitter.com/xXb3BKDGNF

— Serena Williams (@serenawilliams) 29 maggio 2018
However, it is not the first time that some tennis players take the field with a similar look: this, therefore, can be considered a 2.0 version of the bodysuit, thought even two years ago (before the release of the film). Initially, it had to be blue, then the choice of a darker color: it is made of a shiny fabric with several different structures, so as to guarantee breathability and moisture management anyway. Under the eyes of her husband Alexis Ohanian, Serena will still wear it in the second round match against Australian Ashleigh Barty.