Napoli East: between street art and football
Where you can breath football and art
History has taught us that every faith needs a representation, a saint that can be venerated and in fact, in bars as in the Neapolitan garages you can come across real sacred altars depicting Maradona, the Napoli Calcio's Scudetto or the most beloved players of the team. The Street Art is the greatest representation of this faith that portrays the desires, thoughts and passions of a city. The strong freedom of expression of Naples and its citizens has meant that it was filled with writings and posters regarding football Naples, also influencing many foreign artists ready to leave their signature in the city.
The most iconic and historical mural of the city is the one dedicated to Diego Armando Maradona in the Quartieri Spagnoli, made by Mario Filardi right after the victory of the second Scudetto in 1987. After thirty years, the representation of D10S has a new face, a new mural, which has also become a meeting point for fans on the occasion of the Pibe de Oro's birthday. In February 2017, in fact, Jorit Agoch, an internationally renowned Neapolitan street artist, realized in San Giovanni a Teduccio Diego, the largest mural in East Naples, with the support of some local realities and INWARD Urban Creativity Observatory .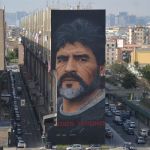 "The figure of Maradona always presents a double reading, between genius and madness, discipline and cunning, creativity and deception but it is precisely there that resides what has made great his name: his humanity, his strong and contradictory personality that the makes it an object of admiration in Naples and of criticism elsewhere. Naples east is geographically opposed to western Naples: the first will welcome the man Diego while the other houses the stadium San Paolo, where the player Maradona remains indelible "
Salvatore Pope Velotti, director of INWARD
Along with the sacredness of the image there is also the important theme of urban decoration in the suburbs. INWARD's goal is to put the situation of the eastern suburbs of Naples in the spotlight through street art. The most important project promoted by the institution is the Parco dei Murales, a program of artistic and social redevelopment in which six large murals and numerous creative workshops have been created. Among these there is a work dedicated to children who daily play in the open air with the title Chi è vuluto bene, nun s'o scorda, created by the duo of street Sicilian artists Rosk & Loste. On this great facade were depicted two boys playing soccer respectively with the shirt of Naples and Argentina, representing, in addition to the football faith of the city, the desire of residents to transform the gray expanse of concrete in front of a regular field from soccer.