Love letter to Fiorentina's jersey
Waiting for the big match against Juventus
Fiorentina's is one of the most incredible and fascinating stories that football has ever told: the Viola managed to win, lose, fail and revive. For this reason, at the Franchi in Florence, you can breathe a unique atmosphere every time Fiorentina plays. In Cecchi Gori's times, Fiorentina always fought with Serie A and Europe's finest teams, with many great victories and results that every Viola supporter remembers with great pleasure. However, Fiorentina also lived dark moments, like when in 2002 it had to change its name in Florentia Viola for bureaucratic reasons due to the bankruptcy and then become ACF Fiorentina again in May 2003.
Prior to Sunday night's big match against Juventus, nss sports chatted with Lorenzo, a true Tuscan and Viola supporter, who told us, as a great football enthusiast, his choices as the best Fiorentina's shirts in the history of this glorious club.
Season 81/82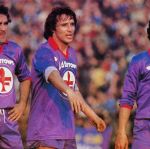 Even if I wasn't born at the time, every Fiorentina's supporter remembers that year. Our leader, both inside and outside the field, was Giancarlo Antognoni. In that year, the Viola fought with Juventus for the Scudetto until the end, rising up supporters' expectations as we didn't compete for the title for a long time. In that season also Graziani e Bertoni helped a lot to reach a well-deserved second place. The red lily in the center of the shirt has made it one of the most beloved in club's history.
Season 87/88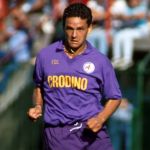 In that season Fiorentina hadn't a particularly good championship, however I'm very attached to that purple shirt, wore among others by champions as Roberto Baggio and Stefano Borgonovo. The all-purple kit with the "Crodino" writing make it one of the most beautiful shirts in Fiorentina's history.
Season 98-99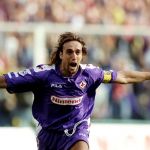 I just have to say who played in that team to make you realize that, besides a unique design, that shirt is historical as worn by people like Edmundo, Batistuta and Rui Costa. It was realized by Fila, with Nintendo as jersey sponsor, a true innovation at the time. The Florence lily on the shoulders has made it one of my favorite shirts of all time. More, Fiorentina at the top of the league at winter break was a great present for every Viola supporter.
Season 02/03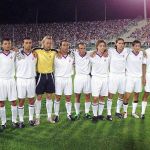 This jersey has a unique meaning to every Fiorentina supporters: yes, it's true, we were in the fourth league, but at the same time it represents an important time, our new reborn. Viola was sponsored by Puma and instead of Fiorentina's classic crest there's was city's red lily. The team could count on players like Riganò, Quagliarella, Di Livio and Diamanti, just to name someone. It was a great year, the city bonded with the team and more than 20 thousand season ticket holders pushed the team towards great goals.
Season 09/10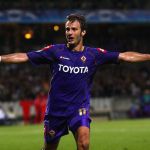 Seven years after the fourth league, Fiorentina returned to dispute Champions League. As a supporter, it was the most amazing year as we played two incredible matches both against Liverpool, winning 2-0, and Bayern Munich. That year, the jersey had an eccentric and captivating style with golden edges. Produced by Lotto and sponsored by Toyota it had Jovetic as its brightest star. The golden numbers completed what I think it was a great and successful jersey for one of the most talented teams Fiorentina has ever had.