Angelo Trofa, a genius of Football design
Interview with the designer and illustrator author of Football Strip Concepts
Why don't you tell us about your beginnings as a designer? How did you come closer to illustration?
I've been aware of design and illustration for as long as I can remember. I was always drawing when I was a kid, before falling in love with football kits, it was superhero costumes, Batman, Superman, Spiderman and Thunderbirds I loved them, the colours, logos and designs. I studied graphic design and illustration at university and then after graduating worked at MrPorter.com for 3 years, I had a great position there as had a dual role of designer and illustrator. I have always loved sportswear and subcultures, and in my free time I would always be creating ideas and projects which linked the two.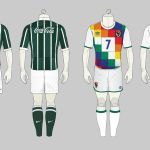 Why do you like to design football kits? Where does this passion come from?
I have always wanted to be a designer, and loved everything from typography, logo design posters etc. For me the football kit is the perfect blend of all of the key design disciplines. It merges design, advertising, typography, iconography, history and fashion. And then it changes every season, so there's an extra challenge. It is also a lot more than just a t-shirt, it's a statement, theres some cities which if you walk into the wrong part in the wrong shirt it could mean trouble, so it's quite a symbolic garment.
Which are your favorite kits?
There's so many, but I like designs which challenge and revolutionise the industry. My two favourites in this respect is the Puma sleeveless design for Cameroon in 2002, not only did it look good, but it made sense too, so FIFA banned it. The Kappa Kombat kits from 2000 and 2002 changed football kits, it was slim fitting, simple and super stretchy and looked amazing on the players (the fans, not so much).
These days, football shirts are full of sponsors. Esthetically speaking, are you in favor or contrary?
I think the sponsors are a key part of the kit design, when the sponsors logo is good it makes the kit look amazing, e.g.: Inter and Pirelli and Palmeiras with Coca Cola. I think the problem is when the sponsor logo is too detached from the actual shirt design and then ruins it, this for me is when I'm not a fan.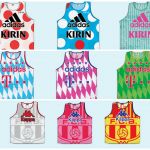 Your Instagram profile is full of football kits' mashups and concepts. Why are you so fascinated by these works?
I always have quite few ideas of things I'd like to see, so I'm always getting them down on paper. I'm always reading about different designers and brands and I enjoy trying to guess what they would create, for example if Missoni designed Italy's kits or there was a Bob Marley line created by adidas. The internet is amazing as it has allowed us access to so much cultural references and images, these often lend themselves to football kits.
In your last volume of Football Strip Concepts you make a prevision of football kits in the future. How do you see football shirts in 10 years?
We've started to see some interesting things happen with kits recently, they've become much more technical but at the same time more experimental and street wear. I like what adidas did with Parley recently. So I think there will be more of an effort to make them cooler and must have. I think this will continue, but I also think there will be a lot more "one-off" designs throughout the season, so teams will have more than one home shirt in a season.
Recently you've collaborated with FIFA Ultimate Team, which kind of experience was it?
It was great, the 13 year old me would have felt it like a dream come true. For a designer it was a good experience, they were quite open to ideas and really wanted to be creative. It was great to see the in-game renderings of the designs.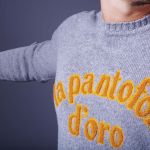 You've also worked for Pantofola d'Oro's 130th anniversary, would you like to design football boots too?
I worked with Pantofola d'Oro on a small clothing collection, like EA and Fifa it was really good as I was given free reign and I love that Pantofola has stuck to it's roots, so I was able to create a collection which captured the heritage of the brand. In terms of designing for shoes, I'm not too sure, maybe one day in the future?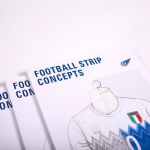 What are your plans for the future?
I'm currently working on my next volume of Football Strip Concepts, but also working with a couple of brands on football clothing projects, this year has been quite interesting as I've had the chance to bring my designs to life, so you'll be seeing these in the new year.