Inter and Copa together for the history
The Dutch brand's new collection is a tribute to the FC Internazionale heritage
Copa is the name of a Dutch brand, active from 1998, that has quality (everything is rigorously Made in Europe) and attention to the detail as its strongest points. Founded by a group of football jersey fans, the firm has then developed its productive line in both a vertical and horizontal way, also incorporating sweaters, pants, purses and every kind of accessory that a football fanatic could desire.

However, the "core business" of the firm are still the vintage jerseys, heritage of that nostalgic style, heavily returned in the football fashion field. This is how their official collaboration with FC Internazionale was born, with the initiative "My First Inter Football Shirt", that has the purpose to put the younger people in contact with the historical uniforms of the Neroazzurri, a way to give back dignity to a world - that of the football jerseys - sometimes too much underestimated.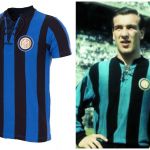 Copa has therefore made six shirts and a sweater, in cotton and in a very minimal style. It goes from "Captain t-shirt" with an incorporated yellow band, available in black and blue (with the number 2) and white (with the number 4 of Javier Zanetti), to the historical jersey from 1958, with the woven neck. Particular attention has also been set on the sponsor: on the uniforms of the season 86/86 in fact, there is the Misura sponsor, one of the most loved by the fans, together with the old badge with the "biscione".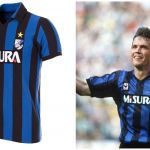 After the argues for the red jersey of some years ago and for the European uniform "Sprite-color" of this year, the Inter fans will have a more valid reason to reconcile with their social colors.