The 4 Greatest NBA All Star Game Performances Ever
Do the right thing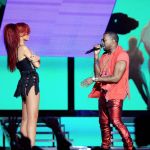 Okay the Super Bowl, okay Bruno Mars and Beyoncè , but in the NBA pre-game , to ' national anthem and halftime during the All Star Game the situation is not so bad. The race on Sunday was indeed an impressive rebound media , because basketball has long become the most swag sport in America.
This year, to open the game there will be a future headline the night of the Oscars, his majesty Pharrell Williams, also appeared in a very nice video on NBA TV this week. The weekend of the stars this year will be held in New Orleans , it will be perhaps for this reason that the event organizers have tried to maintain a very high standard of music (which is not completely successful in 2011 with Pit Bull) with the Earth Wine & Fire , the recent winner of a Grammy Gary Clark Jr. and Kendrick Lamar on Saturday during the Slam Dunk Contest. So then there's Pharrell.
We propose below the top 4 (or more exciting , you name it) performances at the All Star Game, chosen for symbolic and artistic value . 



Mariah Carey
Michael Jordan had just announced his retirement, for real this time , at the end of the year. The NBA decided to pay homage with a show entirely dedicated to him, with the beautiful Mariah Carey. And he was touched.


Marvin Gaye 

Associate the talent and the symbolic value of Marvin Gaye , with the importance of the national anthem in American culture . It came out a modified version (as often happens in another U.S.) , criticized, but went down in history as one of the most incredible moments of the All Star Game ever.



Rihanna feat. Drake e Kanye West 

Staples Center in Los Angeles , who better than three of the brightest stars of the entire pop world view ? Rihanna, with the kind participation of Yeezy and Drake in one of the cult moment of pop-basketball . It was also the first time that Kanye came with arrogance and red outfit in the NBA. Never to leave again. At least until now.


Broadway All Star
There is only one place where theatrical excellence in basketball excellence could be in the same place , on the same night . New York City baby .