Everton and Chelsea made the same jerseys
Their new vintage lines are virtually indistinguishable from one another
A few days ago, Chelsea launched two more jerseys from its retro collection, produced in collaboration with specialist shop Score Draw. The response from fans and vintage jersey lovers was so positive that one of the jerseys, which tapped into the blackout jersey trend, sold out within hours. Those who went away empty-handed can console themselves with the jerseys Everton produced just a few weeks ago, also in collaboration with Score Draw, which are indistinguishable from Chelsea's except for a few minor details. While the Blues use a tone-on-tone monologue, Everton have a geometric pattern criss-crossed by a dotted line.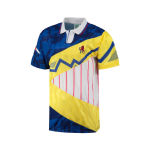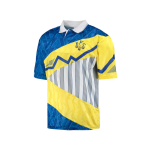 The same line is used on the other two jerseys of the two English teams, which instead mix different designs used in the early 1990s when the common sponsor was Umbro. And it is precisely the fact that the kit supplier was the same back then that has made these old kits almost indistinguishable from each other, as the templates used back then were already very similar. In fact, the away jerseys of the 91-92 season differed only in the shade of yellow used, while the ubiquitous blue spectator line remained a constant in Umbro's designs for that season.
But the home jerseys were also almost identical, even with the same tone-on-tone pattern, due to the very similar corporate colours of the two clubs. The end result was that Score Draw's recombination of all these jerseys was strikingly identical, not sure how much on purpose or not. And it showed that the design and aesthetics of those early Premier League seasons were sometimes not as innovative as we like to remember.