adidas away jerseys for women's national teams deserve the World Cup
The brand presented today the shirts of Argentina, Colombia, Japan, Germany, Spain and Sweden
Inspired by the characteristic landscapes of each nation, adidas today unveiled the away jerseys for the 2023 World Cup, to be played in Australia and New Zealand, of Argentina, Colombia, Japan, Germany, Spain and Sweden. Six true harmonious masterpieces that mix the typical colours of the nations with those of the most famous headlands, landscapes and mountains that dominate the aforementioned countries.
Having already unveiled the eye-catching designs of Saudi Arabia, Costa Rica, Italy and Jamaica earlier this year, as well as kits from the Philippines, which will be released in the coming months, adidas continues on its way. Amidst the vast green forests of Germany, the glacial rivers of Sweden and the changing colours of the Caño Cristales river in Colombia, the brand, as for the European Championships, has once again chosen to bind its own creations to a common thread, demonstrating that it wants to focus strongly on women's football as well as men's.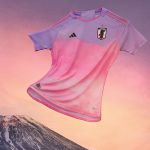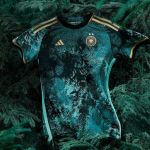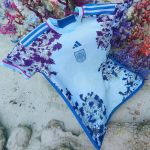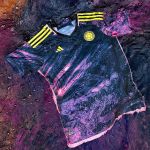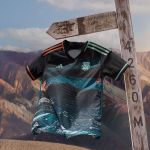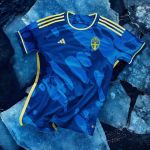 "The FIFA Women's World Cup is the absolute pinnacle of the sport, capturing the imagination of current and new fans around the world," said Sam Handy, Vice President of Product and Design at adidas Football. "As with any great competition, we know the designs will remain etched in the football history books. As the tournament takes place in Australia and New Zealand - two countries with iconic landscapes - we wanted to create a common theme across all of our kits to celebrate and appreciate the wonders of natural environments found around the world."
And as it did a few weeks ago with the new COPA Mundials, both the Authentic and replica versions, the German brand has once again collaborated with Parley to make jerseys by recycling plastic waste recovered from islands, beaches, shorelines and coastal communities before it can reach the oceans. As with the boots, therefore, 50% of these jerseys are made from Parley Ocean Plastic while the remaining 50% of the yarn is recycled polyester. One of the innovations that adidas has decided to use only for its boots but to extend it to its shoes as well, proving once again its commitment to help put an end to the huge problem of plastic in the sea.
The shirts will be on sale from 6 April, here.