Scotland's jersey for the 150th anniversary of its federation
Made by adidas, it did not disappoint the high expectations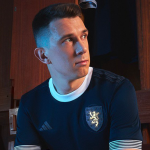 Ever since the first rumours about the Scottish FA's 150th anniversary jersey emerged over a month ago, expectations were high for the design chosen by adidas. A jersey inspired by the first jersey from 1872, in the classic midnight blue that characterises the Scottish flag, with a round white collar and woven crest. The striped cuffs recall the significance of Queen's Park FC, which represented the first Scottish national team, while the lion is highlighted in gold on a tonal crest that recalls the look of the first crest worn on the first jerseys when Scotland faced eternal rivals England at Hamilton Crescent in the first international match in their history.
The Scotland men's national team will make their debut on the pitch in the UEFA EURO 2024 qualifier against Cyprus on Saturday 25 March, while the Scotland women's national team will wear the jersey against Costa Rica at Hampden Park on Tuesday 11 April. To further celebrate the 150th anniversary, the jersey will be worn by the Scotland men's national team in the special anniversary friendly against England at Hampden Park on Tuesday 12 September. The jersey will be available in two different editions, a general edition and a special boxed edition of 873 pieces accompanied by a commemorative coin and miniature whisky.
The jersey is already available here, while the boxed version will be available from 30 March.