What does a Champions League manager's style say about their team?
An answer in four acts
"Fashion you can buy, style you possess". This famous phrase from the fashion world's centurion, Iris Apfel, seems likely to continually reverberate throughout the generations. There are countless examples to verify such a notion, especially throughout the annals of European football.
As the Champions League continues to thunder its way through another year, spectators and fans get to witness a coming-together of styles, a culture clash, between two sides operating under contrasting tactics, styles, and philosophies. The impetus behind these facets of the game is the manager. A manager, to quote Sir Alex Ferguson: "cannot lead by following". These notions are nothing new, style and leadership must be developed organically in order to attain the required level. However, when it comes to managerial sartorial choices on the sidelines, there are often overlapping yet slightly contrasting styles that almost seem to emanate onto the pitch the essence of the team's play style. Looking at some of the managers competing in the Champions League Knockout-Rounds, perhaps there is a ring of truth in the notion that what a manager wears may influence what we see on the pitch.

Julian Nagelsmann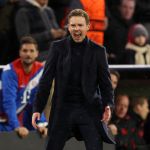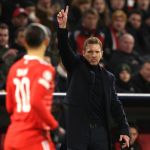 The star atop the German managerial tree, a mighty impressive tree it is, Julian Nagelsmann is sculpting Bayern Munich into one of the most ruthless, devastating, and stylish sides in Europe. Comfortably dispatching a PSG side seemingly allergic to pushing all the way in the Champions League, Nagelsmann's side is a mirror image of his mentality and philosophy - a philosophy that he himself described when being interviewed earlier this year by Bayern Munich's media team "control the game by winning the ball high up the pitch and changing the tempo in possession".
Adorning the touchline oftentimes with statement roll-neck energy, tailored suits, and a dark overcoat, the message is clear and perhaps typical of what one would expect from Bayern Munich, one of style and efficiency in equal measure compounded by an air of unbreakable confidence. Given that Lionel Messi and Kylian Mpabbe failed to permeate his defence, whilst PSG defenders were unable to cope with the pace of Bayern's transitions, Nagelsmann's dressing-to-impress helps enable his side to maintain their mentality-monster perception. Occasionally seen in a casual hoodie and jean combination in the Bundesliga, the Champions League brings out an elevated level in Bayern Munich as a side, and sartorially, Nagelsmann is rising to the occasion.
Graham Potter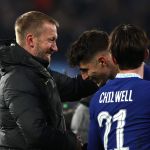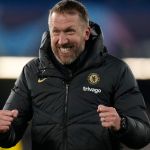 Life at Chelsea has been turbulent for Graham Potter. A chaos agent of a club under new ownership structures suffering from a bloated, albeit high-quality squad, and a polarised fanbase has placed Potter into a scenario that few managers ever have to encounter to such extremes. However, as always appears the case when Chelsea are adapting and struggling domestically, the European stage becomes one in which the squad are seemingly able to rise to the occasion: Chelsea finished sixth place in 2012 when they first won the Champions League.
A clear fan of the training tracksuit throughout the Premier League season, this sartorial option may enable Potter to create a standardised level between management and players presenting an attitude of unity amidst the struggle of adaptation. However, Chelsea are a tournament team, occasion suits the club. Dressing for the occasion has been a central aspect of social human behaviour since time immemorial. As Chelsea overcame a 1-0 Dortmund advantage, winning 2-0 on the night and progressing through to the next level, Potter's decision to dress for the occasion might have enabled his squad to better prepare themselves for the high-pressure spectacle.
Antonio Conte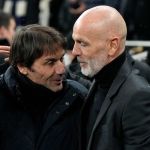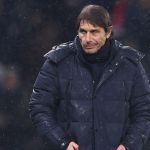 Unfortunately, Antonio Conte's Tottenham Hotspur side responds in stark contrast to the nation of dressing for the occasion leading to improved team performance. Conte has a woeful European track record, it is therefore unsurprising that his Tottenham side dwindled out of the competition earlier than they would have hoped.
Much like Bayern Munich, Spurs work with BOSS for their tailoring. Unlike Bayern Munich who almost always demonstrate an elite team mentality, Spurs seem incapable of hurdling the mental roadblock of 'Spursiness' that plagues them. Conte's personal style is reserved and consistent, much like the teams he manages. Unfortunately for Tottenham, their consistency is found in falling at the final hurdle, or in this instance, falling at the Round-of-16 hurdle.


Stefano Pioli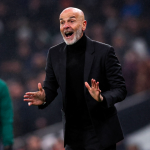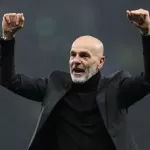 AC Milan are back at the top table of European football and aside from Internazionale fans, most are enthused by their long-awaited return. Despite a tougher domestic season, there are still scope for Milan to finish in the top three. Stefano Pioli has been the leading force behind the return of the European giant, not only improving the side tactically and individually, but he has also united the collective mentality, enhanced professionalism, and reminded those that needed reminding that AC Milan are one of the very best.
Much like Nagelsmann and Potter, Pioli recently opted to bring what Musa Okwonga describes on Stadio: A Football Podcast, as 'roll-neck energy', Pioli emanating strength, formality, and self-belief. That said, thanks to OFF-WHITE combining this with white sneakers alludes to a streak of excitement that spectators see throughout this Milan side irrespective of their defensive structure and midfield strength.
Clearly, managerial sartorial choices matter to a certain extent. That said, these links are loose and will not impact a side much in comparison to tactics and training methods, obviously. Clothing is a way in which we all represent ourselves, a manager is no different, yet what they represent is bigger than themselves, and at points, dressing for the occasion will do no harm, perhaps the very opposite.