The last country without a club launched a contest for its own kit
It is the Marshall Islands, now looking for their game jersey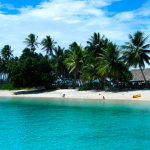 Having established their own football association in December 2020, the last in the world, the Marshall Islands have now launched a contest through their social channels to design the national team jersey for the tiny islands in the Pacific Ocean. Following the unveiling of their first national team logo at the end of February, the new Marshall Islands Football Association has now set 18 March as the deadline to submit designs for the home jersey. There are no further requirements for submitting designs for the jersey, except that you must post your prototype under the Twitter profile thread and use the tag #firstkit. The jersey is then to be manufactured by Under Armour.
Kit Design Competition

We want you to design the first ever Marshall Islands national team football shirt!

1) Post your shirt design here in the thread below
2) Add hashtag #firstkit

- Competition closes March 18

- Winner receives framed copy of first shirt produced

— SoccerFedMI (@SoccerFedMI) March 8, 2023
The winner will not only see their work on the first jersey of the Marshall Islands national team, but will also receive their framed work to hang in their living room. That may not be a big prize, but it is commensurate with the size of the island nation, which is in the process of building its first facilities. Although more than 42,000 people live on the archipelago, the small state has only 3.7sq miles, a big problem when it comes to building football pitches. So the Marshall Islands' football dream has yet to be built, and as the fledgling federation also states, please retweet.