Sporting Lisbon made a collection for its best player, CR7
PARABÉNS, CRISTIANO RONALDO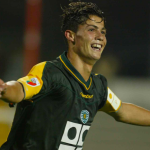 For the 38th birthday of one of the best players ever, Sporting Lisbon has decided to take a dip into the past, releasing a special pack dedicated to Cristiano Ronaldo. A limited edition tribute to the best Portuguese player ever, in the year in which we celebrate 21 years since his official debut in Sporting Clube de Portugal's first team. Cristiano Ronaldo in fact made his debut on 14 August 2002, in a match against an Italian team, Inter, in the third qualifying round of a competition where he broke all records, the Champions League. To celebrate this unforgettable moment, the Portuguese club has created 'The Cristiano Ronaldo Box', which includes a replica of the shirt from that debut match and also an unpublished book that tells the story of his 7 years of training at Sporting CP, before becoming the champion we all know and admire today. An incredible life story, a great example of commitment, dedication, devotion and glory that despite the last turbulent months no one can dispute.
The one between
Sporting Clube de Portugal
and
Cristiano Ronaldo
is a great love story that transcends every record, goal and play. The Portuguese champion's mother hoped that this January there could be a grand return to his old home, but it was not to be, despite her statement that sounded more like a public request: "
it is my greatest wish. And if not him, his son, Cristiano Junior, could play there."
A request, however, not granted by CR7, who decided to pack his bags and head to Saudi Arabia, to try to win and break records with
Al-Nassr Football Club
as well. Who knows, however, that the wish might not come true anyway after the experience in the Middle East,
'it is my greatest wish before I die: he must come and play here, he would do a beautiful thing for me'.
All doors may therefore not be entirely closed, the footballer has always remained vague, answering '
let's see
', but if his intention is to continue his career beyond the age of 40, it may not be entirely impossible. While waiting for this dream to materialise, however, Sporting Clube de Portugal has already laid a small foundation with the creation of this special pack, which can be purchased
here
.