One of Monaco's most beautiful jerseys has returned
Thanks to Kappa who decided to return to producing the iconic 1999/00 kit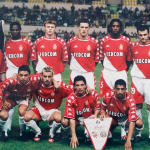 A few months ago, Socios launched a vote on its website for Monaco fans to decide which of the club's many iconic jerseys from the past should be made again. Obviously in unison, a request was made for the reprint of the kit from a winning year, that of 99/2000, an iconic jersey, also made by Kappa, not only for the Scudetto but also for its design, which has made it one of the most desired kits ever, as the many votes show. The jersey is a perfect and faithful reproduction of the one used by Giuly, Trezeguet and his teammates, the only difference being the absence of some that for commercial reasons can no longer appear. Despite this small difference this remains one of the most anticipated and surprising releases of recent years, playing on the nostalgic feeling of the fans.
And in this case, nostalgia is more than a sentiment, given also that Monaco won the championship that year, it is a very effective marketing technique. Marketing experts know this better than anyone: being able to link a product to nostalgia means selling an emotion, a piece of the past that becomes part of those who consume it. The world of football is no exception. In recent years, both in Italy and abroad, there has been a progressive wave of nostalgia. It began as a short-circuit of the ultras, who rejected 'modern football', harking back to a mythical past where values existed in the world of football and everything was somehow better than today, a typical mechanism behind nostalgia and memories. Exploiting this desire, however, one of the best jerseys seen on the pitch returns, and after the capsule with Drôle de Monsieur, Monaco and Kappa have pulled off another big coup.
The jersey is already available, here.