From 2025 there will be more teams in F1
In all likelihood it will rise from 10 to 12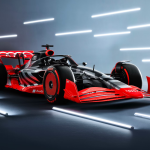 The year 2022 represented a revolutionary year for Formula 1 on a technical level, the new rules giving the single-seater world championship a new lease of life, catalysing the attention that had been waning slightly in recent years. And while F1 is living one of its best moments, the top management is working to improve it and make it more and more competitive, and the decision to make this happen as quickly as possible seems to be to include no longer just 10 teams, but to widen participation to 12. Audi and Porsche seem to be the two most popular companies at the moment, the former actually having already confirmed its participation, showing its car livery at several events. The latter, on the other hand, is not yet fully confirmed and seems to be more of a suggestion, on the other hand it seems absurd that a brand like Porsche does not have its own stable. What is certain is that from 2026 Ford will return instead, the German car manufacturer will return to the most famous championship in the world, after more than 20 years of absence.
Ford has been driven precisely by F1's desire to innovate, Fia's commitment to sustainability and greater use of electric and sustainable fuels is in fact one of the main reasons, the same applies to the other car manufacturers. But not only sustainability, F1 is obviously looking for teams that have the economic strength to take on the championship and this was stated by FIA President Mohammed Ben Su.
"The assessment of each application will look in particular at the technical capabilities and resources of the applicant team, the ability of the team to raise and maintain sufficient funds to enable participation in the championship at a competitive level and the experience and human resources of the team."
In short, the new Power Units of 2026, which have at their core a commitment to both sustainability and spectacle, will generate even more interest, but it is good that the teams are aligned in terms of finances and objectives, so as to create a hard-fought championship, capable of not being closed already in the middle of the season as happened in previous seasons with Red Bull.