Juventus also held a contest to design the jersey
Unlike the others, however, it will not actually be worn by the team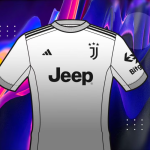 Last season a sort of trend literally exploded, which saw all European and non-European teams hold contests to create new jerseys for the new season. In Italy one of the first clubs was Fiorentina, who together with Kappa involved the fans in the creation of the fourth kit that made its league debut a few days ago against Lazio. In Europe, similar initiatives were also undertaken by Red Star and Borussia Dortmund, clubs that are always attentive to their fans. Now it is Juventus' turn, but unlike the other clubs, they have chosen a different method. In the contest, in fact, it is not specified whether the shirt will actually be made and then worn on the pitch by the players.
"The kit creation challenge is open from Wednesday 25 January to Sunday 5 February, with voting closing on Wednesday 8 February. During this period feel free to share your creation on social media via the hashtag #JuventusYourJersey!"
It's a good opportunity in any case to let your creativity explode, putting yourself to the test by creating a jersey for one of Italy's most emblazoned teams, the only one sponsored in the top league by adidas. All you have to do is register and then create a design that best fits the three stripes, keeping in mind the typical colours that have always distinguished Juventus.