Palermo gave a jersey to all its away fans in Ascoli
To thank them for accompanying the team in the match that was later postponed due to problems with the Rosanero flight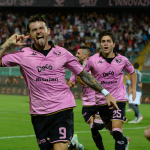 On Friday morning, Palermo were due to fly to Ascoli to take on the local team in a fixture of the 22nd day of Serie BKT, but the plane carrying Corini's team had a problem in flight fifteen minutes after take-off and had to return to Punta Raisi airport. A breakdown that disrupted the Rosanero's plans, who only managed to reach the location on the following morning, with a flight that left at 3.40am after a day spent at the hotel and airport.
An arrival time that made it impossible to play the match scheduled for early afternoon, which the league chose to move to the following day. This decision, however, had a very negative effect on the Rosanero fans who had decided to follow their favourite team in the complicated away game, and who were unable to attend the match that was then played on Sunday.
The fans thus missed yet another double by Brunori, who joined Cheddira at the top of the best scorers in the Serie B, and complained to the club, which however in this case could do little to remedy the logistical problem. To make up for this, the team, which last year switched to the City Football Club, decided to give the 222 fans belonging to the Curva Nord 12, the hottest section of the Barbera, a Rosanero team's jersey. A symbolic gesture that, although it cannot make up for the inconvenience suffered, intends to reward the effort of those who are always by the team's side.