Barcelona's new fourth jersey is a tribute to Catalonia
Four horizontal red stripes on the chest to emphasise the close link with the territory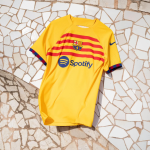 As in 2019, Barcelona presented its fourth kit for this season, accompanying the launch with the slogan '+ Catalunya + Barça', which is intended to underline the club's close ties with Catalonia. The jersey pays homage to the club's roots, presenting the Catalan Senyera flag on the chest, and will be worn in the Catalan derby against Girona FC. The launch of this jersey by Barcelona is a strong signal towards the institutions and a clear political message, and in fact one of the most iconic representations of Catalan architecture, La Pedrera - Casa Milà, was chosen as the background for the presentation. Compared to the one used in the past and also used in the previous season, the new shirt presents an innovative design, with the coat of arms and four horizontal red stripes on the chest on a yellow background.
The main feature of the concept is obviously the explicit reference to the Senyera, the Catalan flag, stylised and made recognisable by the red stripes on the yellow background of the uniform. A totally renewed design compared to the previous one, given the problems it had, in fact in 2019 Kappa accused Nike of copying the jersey's pattern. But beyond the problems they had, like last time the jersey is accompanied by a slogan chosen to present the kit, "+ Catalunya + Barça" to convey the spirit of the club and the pride of being from Barcelona and Catalonia. Since its foundation, the club has adopted a style of play and an approach that symbolises belonging to Catalonia, becoming a legacy passed on by the captains to future generations, inspiring and guiding young people. A club for all, which has become a meeting point for different people, cultures and countries, staying true to its roots with a jersey that reminds us of it, even on the pitch.
The new kit is already available, here.