What if tunnel fits came to football too?
In the American league they are real parades and Barcelona is trying to replicate this model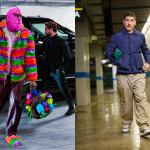 In recent years in the NBA, the moment before the game has become a much-awaited ritual, the entrance to each stadium turning into a catwalk where players show off their outfits to the cameras. An appointment that has now become a fixture and that with the passage of time has undoubtedly become a tool to influence style and culture. A rule instituted way back in 2004, when the then league president Stern decided to institute a formal dress code that prohibited any reference to outfits or cultures that were frowned upon within the NBA. And the players over time have accepted this rule, making and shaping it in their own way, thus having the opportunity to show the world all their style and passion for fashion, and in many cases it has also become a great marketing opportunity. To those who may still be sceptical and think it's only a small moment where the most eccentric players show off their latest purchases, you only need to know that in 2018, the Dutch brand Filling Pieces saw a quadrupling of purchases on the website of one of its blue suits just because it had been worn by Chris Paul or LeBron whose revenues over the years have reached $140 million thanks to sponsorships. A new 'economic outlet' that could soon become popular in football too, when footballers are not forced to wear their formal uniforms.
The news in fact of these days is that Barcelona replicated this moment at the Camp Nou for the arrival of its players, who on that occasion were exempt from wearing Herno garments, official formal wear of the Catalans from this season. Shots published on the club's various social platforms and which obviously immediately went around the world. Among them, of course, was Hector Bellerin, a style icon who has never hidden his passion for fashion. In fact, over the years the full-back has designed collections, been the face of several campaigns and has been a regular guest of various brands on the catwalks of Paris or London Fashion Week.
Barcelona's choice testifies to the strong connection that has been created in recent years between football and fashion, two worlds that no longer stop contaminating each other, as the catwalks of the latest Fashion Weeks in Paris and Milan have once again shown, where many brands have created garments and accessories inspired by the world of football. And who knows, maybe now many other teams might follow Barcelona's example on the NBA model, making the entrance tunnel a fixed appointment where players can express their creativity, not wearing their usual suits.