We met Neymar in Paris for the launch of the new FUTURE
A step towards a better future to enhance the creativity of any enthusiast
It happens very rarely to meet a footballer in person, either because they all lead private lives, away from prying eyes with only the journey home from training as their only daily commute. Of course, you will say, it is possible to see them in action, but watching them from 50 metres or more away is obviously not the same as seeing them a few centimetres away. Each of us creates expectations in our heads, tries to hypothesise their behaviour and preferences by watching them play from a TV screen, but once you get in front of that mixture of class and elegance that we are used to seeing through a screen, all prejudices are swept away.
Neymar da Silva Santos Júnior, better known as Neymar Jr, is exactly as he appears on the pitch, his cheerfulness always guiding him, perhaps due to the country where he was born and whose colours he has tattooed on his calf, accompanied by the creativity of his every gesture, even the simplest. In fact, seeing him hurdle obstacles and hit the target on the first shot in the challenge created by PUMA for its event in Paris makes you think that some people were born to have a ball between their legs. The naturalness, the fluency with which the Brazilian national team footballer in an exercise performed by some 600 people who came from all over the world just for him, makes you realise, in addition to his many sporting achievements, why PUMA decided to snatch him away from the competition and sign him as a star player.
And for a top player you need shoes to match, and indeed we were in Paris for the presentation of the new FUTURE, synonymous with the future of innovation and technology. This is a shoe that pushes the boundaries of what you can do on the court, but in style. The new FUTURE implements a radical redesign to ensure maximum agility. The new edition features an innovative dual-mesh FUZIONFIT360 upper and incorporates PUMA's exclusive PWRTAPE technology to improve support and ensure an adaptable fit, so you can focus on driving your opponents crazy, whether you play with or without laces.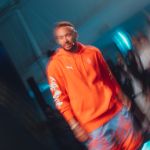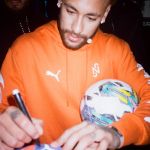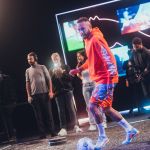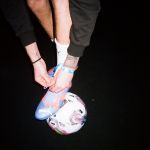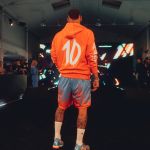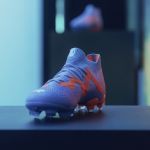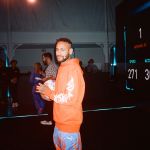 And in Paris we also had the pleasure of interviewing Florian Nemetz, Senior Product Line Manager Teamsport Footwear, who told us about the shoes: 'The introduction of PWRTAPE technology is an exciting innovation. The positioning of the PWRTAPE is based on strain data collected by measuring the deformation forces on the shoe upper during a number of key football movements, including acceleration, running, cutting and kicking." "The PWRTAPE has been integrated into a zig-zag pattern to provide targeted support in the areas of greatest stress. This provides our athletes with optimal support with a locked-in fit, so they can move unconstrained when performing key movements on the field."
If all that wasn't enough to convince you, you should know that the new FUTUREs are worn not only by Neymar Jr. but also by greats such as Julia Grosso, Dzsenifer Marozsán and James Maddison. A step towards a better future, with an upper that also looks at sustainability, with 30% recycled materials.
The PUMA FUTURE Supercharge edition will be available from 19 January here, in PUMA Stores and at selected retailers.