Why are we talking about the Kings League
And why everyone wonders who a footballer is who pretends to be a wrestler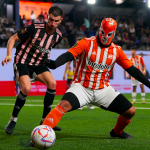 Having ended his professional career at the end of last year, Gerard Piqué has already found new employment in the world of football. Although football is perhaps not the best way to describe the Kings League, a league created by Catalan footballer and streamer Ibai Llanos, whose launch on 1 January was watched by over 15 million viewers. A sensational figure, which also exceeded that of the first day of LaLiga by a factor of five, for a 7-team football tournament with 12 teams, pitting old greats of Iberian and world football against unknowns who had applied online in the draft on 27 December. These teams were joined by ex-professionals such as Iker Casillas, Joan Capdevila, Chicharito Hernández and Javier Saviola.
But unlike the many tournaments for footballers who are no longer active, the Kings League has introduced rules stolen from other sports that make it more like a show broadcast on Twitch or YouTube than a football match. For example, in the Kings League it is possible to make endless substitutions like in basketball, the kick-off is like in water polo, with the two teams starting from the back line, VAR the teams call on shouts and penalties are taken hockey-style or similar to the Birra Moretti Trophy penalty shoot-out. The league's strangest rule, however, concerns five wild cards that each team draws before kick-off and that can lead to bonuses such as getting a penalty, doubling a goal or playing in numerical superiority.
The Kings League's final launch, however, came thanks to the unusual promotional move of having a footballer play dressed as a Mexican wrestler. With overalls covering his tattoos and the number 69 on his shoulders, Enigma was the superstar of the last round of the Kings League. Everyone wondered who was hiding behind the wrestler's mask. Some thought it was Isco, released after his contract was terminated at Valencia last year, Denis Suarez of Celta Vigo or Nano Mesa of Cadiz. Certainly, though, it was a great gimmick to make the game more intriguing and mysterious and to bring football closer to a scripted sport like wrestling.
LaLiga president Javier Tebas called it a circus, commenting on the spectacular nature of the premier league. To this, Piqué replied that "the product football is outdated today. To attract the attention of the young audience, you have to create short and entertaining content. 90 minutes is too long. If we are not going to have time, we should at least introduce more stimulating rules". The question of how to change football to bring it closer to the younger generation is certainly key, and while the Kings League is probably not the answer to all these problems, its entertaining and iconoclastic approach does offer something new.
Of course, over the years many have tried to make football more modern by introducing new rules or making it more interactive through social media, and Piqué and Ibai Llanos will certainly not be the last. But the Barca defender has also shown great skill off the pitch - remember last year's incredible Balloon World Cup - and the Kings League could be more than just a viral phenomenon.