The Most Promising New Kit Partnerships of 2023
How the technical sponsorship landscape will change in the coming year
The news of adidas becoming the new technical sponsor of the Jamaican national team has been greeted with enthusiasm by football shirt fans around the world. The German brand had a very strong showing at the World Cup with their range of home and away kits, some of which unfortunately didn't make it onto the pitch, but the creativity and individuality of their designs - along with their decades of sportswear heritage and classic silhouettes to call upon - inspires confidence in their ability to create something special for Jamaica. The distinctive colour palette of yellow, green and black is synonymous with the Caribbean island and adidas will be aiming to use it in a way that will outshine all of their predecessors. This is not the only promising new partnership to look forward to in 2023, with several other intriguing match-ups to come later in the year. Some of the following are already confirmed, others are strongly rumoured, and all of them have the potential to produce some very interesting results.
adidas - Italy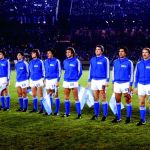 Despite Italy's failure to qualify for the
last two World Cups
, they are undoubtedly still amongst the most high profile teams in international football. Their footballing legacy and
Euro 2020
triumph ensure their position at the top table, while the worldwide reputation of all things Italian as tasteful and effortlessly stylish places certain expectations on their kit manufacturer, whoever it may be.
Puma
had a hit and miss tenure with
Gli Azzurri
and could have done better with their lifestyle collections, which have been something of a strong suit for adidas in recent years, so we have high hopes for the wider collections. Italy's new crest was unveiled recently and there's not long to wait until the kit launch.
Reebok - Botafogo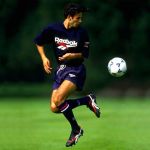 In their 90s heyday,
Reebok
were one of the biggest brands in football. Their presence faded in the 00s and they eventually withdrew from the sport altogether. 2023 is the year they make their comeback, with
Panama
on the international scene and
Botafogo
the first club to receive their wares. Their absence from the market over the last ten years or so means we have no hints as to what type of vision they may have in mind for their big return. Will they play on some of their
classic 90s templates
, start afresh with looks that fit easily into the current kit design landscape or try to make a splash by being disruptive? We'll find out later this month.
Puma - Parma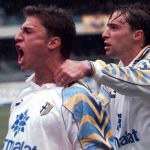 After a long spell with
Erreà
, i Gialloblu will reunite with an old partner as
Puma
return to the fold after 25 years. Parma are particularly fond of referencing kits from their past, and though Erreà paid homage to some
Lotto
and
Champion
designs from the late 90s and early 00s, the 95-98 Puma jerseys remain ripe for the throwback treatment.
Milan
and
Sassuolo
are Puma's only teams in Italy, so they will be keen to leave their mark with an historic club like Parma, even if the jerseys look destined to be worn in
Serie B
next season.
Mizuno - Augsburg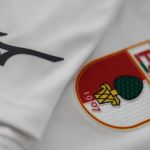 They didn't drop out of the sport entirely like
Reebok
, but
Mizuno
will be heading into the second year of their European revival in the
2023-24
campaign after a years-long absence from the top level of the game.
Lazio
fans should be extremely satisfied with the Japanese brand's first offerings for them, and Bundesliga side VFL Bochum were also given a strong set of kits last summer. Mizuno's use of embossed details allowed these clubs' traditional colours to be applied in fairly routine fashion with great results.
Augsburg's unusual combo of red, green and white
should provide the designers with a wealth of possibilities to make the smaller flourishes really stand out.
Le Coq Sportif - Nice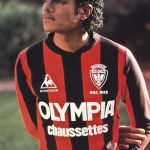 There is something satisfying about a club's kits being made by a manufacturer from their homeland. You'd have to go all the way back to the early 80s to find the last time
Nice
were sponsored by a French brand, when
Le Coq Sportif
were their suppliers. Their return has not yet been officially confirmed by the club but they are reportedly set to take over from
Macron
this summer. Nice would become Le Coq Sportif's highest profile team should the deal go ahead and could expect to be given some bespoke designs. With the timeless footballing aesthetic of black and red stripes to work with, Le Coq Sportif should be able to serve up some classy numbers for the Côte d'Azur club.
adidas - As Roma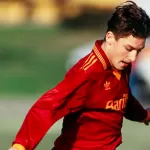 The contract between
adidas
and
As
Roma
was signed, sealed and getting ready to come into effect, only for New Balance to cast doubt over the whole thing with their court case against i Giallorossi. adidas were responsible for some of the best looking shirts in Roma's history in the early 90s, and the ongoing trend of remaking jerseys from the past means we are very likely to see a modern take on some of those classics. As is the case with the
Italian national team deal,
the prospect of
Trefoil
and
Lupetto
-bearing off-pitch pieces seems entirely conceivable. Adidas' three stripes provide the perfect outlet for yellow accents so we should see some very well proportioned home shirts over the course of this union.
New Balance
's efforts have been very respectable over the last couple of years, but adidas is definitely a more enticing option for next season and beyond. They've consistently delivered quality kits for
Arsenal
since signing them and Roma could become the envy of all of Serie A should they be on the receiving end of a similar adidas hot streak.