Where we have already seen the Al-Nassr Football Club jersey
The local brand Duneus borrowed details and elements from the most famous templates
Since Cristiano Ronaldo made his move to Al-Nassr official, the Saudi club has suddenly made headlines, gaining ten times the number of followers on Instagram in just a few days that it had before CR7's arrival. Obviously one of the most viewed photos was the one of the presentation, with Cristiano proudly showing off his new number 7 shirt, making it the object of desire for the Portuguese phenomenon's many fans. As of today, in fact, it is very difficult to buy the home version of the Al-Nassr jersey, made by the local brand Duneus, which has the Saudi club as practically its only customer.
Without having the facilities of the big international suppliers, Duneus was overwhelmed by demand at the time of CR7's signing and is struggling to cope with the demand for this heirloom in the making. At the same time, this jersey is the most important commercial success for the Gulf brand, which became the technical sponsor of Al-Nassr just last year, succeeding Victory, another local company that worked in football exclusively for the Riyadh club. Before that, jerseys had been signed by Lotto, Nike, NFC and New Balance.
For this first season with Al-Nassr, Duneus has chosen to take various elements of football jerseys made over the years by leading international brands. A collage of elements and references that obviously did not escape the attentive eyes of jersey enthusiasts as soon as the jersey achieved worldwide fame. It starts from the collar borrowed from the Nike template for the national team in 2016, to the small band in the nape of the neck that connects the shoulders. The references don't end there though, Duneus has borrowed other elements from the many Nike templates made over the years. The blue raglan style sleeves that we saw on CR7's shoulders, is a detail that has featured in Nike's 2018 jerseys.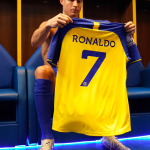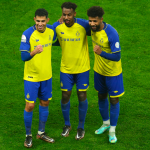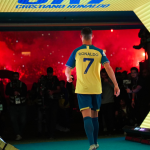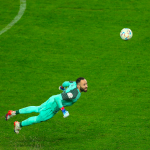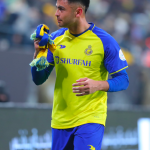 On the whole, in fact, the jersey has an almost European look, this cut and pattern of the blue and yellow jersey decided by the Gulf brand is certainly something already seen in the major leagues. It is of course not the first time that a brand has decided to take more elements from sportswear giants such as adidas or Nike, and this will certainly not be the last. However, it is impossible for fans and insiders not to notice certain similarities when it is one of the world's most recognised and famous footballers wearing the jersey.