From the Terrace Culture to Bloke Core
Extract from the book 2017-2022 Les Vêtements de Football available from 5 December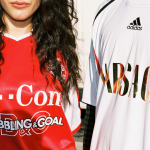 Before 2017, when soccer and fashion surely intersected with each other, which ended up in the two industries collaborating and influencing each other, the latter played a supporting actor role, if we wanted to decline it in cinematic terms. In fact, fashion was destined to remain outside the soccer fields, but still inside the stadium, on the "terraces,"or the bleachers of English stadiums. A subculture that was born somewhat by chance, due to the flashiness of the skinhead fashion that populated the hottest sectors and that within a few years ended up influencing the football culture of all of Europe, moving from England to all the other major European leagues.
It was a subcultural movement that started in the north of England, in Liverpool, and then spread like wildfire across the country of the British Isles, passing through Manchester, which with the advent of the Perry boys helped nurture an aesthetic, supported by several film productions that made it even more popular. A simple but highly sought-after aesthetic that has gone hand in hand with the gradual expansion of soccer and European competitions. In fact, if at first English fans used to wear brands such as Henry Lloyd, Paul & Shark, Lyle and Scott, Berghaus, Gabicci, Ralph Lauren, Henry Cotton Burberry, and Aquascutum, trips outside the national borders would open the door to the many Italian and French brands such as Fila, Sergio Tacchini, Ellesse, C.P. Company, Stone Island Kappa, Lacoste, and Fred Perry that would eventually conquer and characterize the world's most famous and fascinating terraces.
Brightly colored athleisure always accompanied by adidas sneakers that practically held a monopoly. Wearing a pair of adidas, be it Gazelles, Trimm Trab, Stan Smith, Campus, Spezial or Samba, became a quirk of English fans, perhaps the real trailblazers of the sneaker game who used to go in search of models that were unobtainable or unavailable on the English market while away in Germany.
In addition to the glossy and garish suits of the most disparate Italian brands, even shoes then became part of the official everyday uniform, a further way of identifying themselves and shaping an identity, including a stylistic one, that was becoming more and more defined, becoming a way of distinguishing themselves from the fans of other teams. An aesthetically well-defined movement that not only transcended British borders, but also depopulated outside, ending up still inspiring major brands today. A constant presence in every collection of both streetwear and fashion, running through brands and labels that a few years ago were extremely distant from the football aesthetic.
But beyond the athleisure looks that over time have populated grandstands, corners and shootings, the focus has shifted to jerseys, which have become a true cult object, especially off the field. In fact, with time, the focus on merchandising has always been growing, clubs in agreement with their technical sponsors no longer limited themselves to making three jerseys per season, trying to dare more and more, but still remaining consistent with the history and tradition that characterizes each game jersey. The most vivid examples of this movement leading the way are surely the collaborations involving Juventus and Palace and Paris Saint-Germain and Jordan. Experiments that aimed to capture a segment of the public that is increasingly young and attentive but, above all, strongly interested in this type of collaboration. A meeting between the teams' fanbase and the brand's fanbase that generates an immediate synergy and curiosity across the board between those who cannot live without a soccer jersey to celebrate and those who, on the other hand, know nothing about the most beautiful game.
Further confirmation comes with the trend Bloke Core, so defined on TikTok and already cleared through customs for years in stadiums around the world where the soccer jersey is paired with boot cut jeans and low effort sneakers for an only seemingly casual effect. A movement that almost marks a handover and brings soccer jerseys back to the center of everything, confirming how much these are experiencing an era of profound evolution, leaving the playing field for several years now to transform into lifestyle items.
The book is already available here.