Can the balls made by adidas for the World Cup change the sport?
Ronaldo's non-goal could be the confirmation
The World Cup always marks a new step in the evolution of the match ball every time, but never before has the one in Qatar definitely revolutionised the way we experience football. The Al Rihla, the fourteenth ball produced by adidas for the FIFA World Cup, is designed to move through the air faster than any other World Cup ball before to support maximum game speed. Further confirmation of how different this ball is from others came when the match was investigated in Portugal's 1-0 win over Uruguay, when it was found that there was no touch by Cristiano Ronaldo and the goal should therefore be awarded to Bruno Fernandes, and later in Japan's qualifying goal, when sensors showed the ball was still on the pitch. Never before has a ball been able to give us so much information in real time, even going so far as to determine possible touches or non-touches by a player. In short, this World Cup has had the arduous task of surprising us, and the credit or blame for this also lies with Al Rihla, the ball that needs to be charged for at least 30 minutes before each match to make the most of its infinite resources.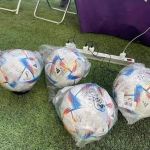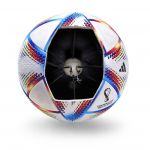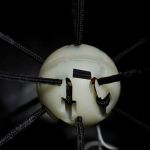 The colourful ball published by the German brand was made with a polyurethane outer surface, with several panels that are always heat-bonded to prevent the seams from altering its trajectory in any way. What makes it different and a great weapon for the future, however, lies inside, where there are two sensors that keep track of any movement, trajectory, speed and touch hitting the ball and send signals to a specially created tracking system. The credit for this is not all due to adidas, but also to another German company, KINEXON, which took care of the technological part, developing these two sensors with a total weight of 14 grams.
IT'S OFFICIAL: @FIFAcom and @kinexon have joined forces.

FIFA has chosen KINEXON to lead football into the next generation by selecting us as the first Preferred Provider of Live Player Tracking. https://t.co/rbVNP5D370

— KINEXON (@kinexon) May 5, 2021
The challenge FIFA faces is indeed to use KINEXON's expertise in tracking innovation not only for the game. But also to improve the way clubs and players can receive information on health and development, as well as the way the sport is presented to fans around the world, and bring football into the new millennium for good. Should other leagues decide to introduce balls with this technology, much more information would be available, giving coaches and their staff new opportunities to shape their teams and tactics.