A Brief History of Football and Fashion
A preview excerpt from the 2017-2022 book Les Vêtements de Football coming out on 5 December
Never before have the worlds of football and fashion collided more than in recent years. In a progressive exchange of influence and ideas is born a result that has been quite different from what we might have expected. It managed to give birth to a movement that, in just a few years, has gone from friendly neighborhood playgrounds to Fashion Week catwalks. In the beginning, it was the World Cup in Italia '90 that found itself mixed with the fashion shows of the big domestic brands during the opening ceremony. Over the following years, the ball has been passed to the highest names in the fashion system, who have assimilated more and more of the aesthetic language of the playing field into their collections. For D&G's FW16 haute couture show that took place in Naples, the brand chose to parade a Diego Armando Maradona's Napoli jersey replica, causing quite a bit of controversy and giving rise to a quarrel that was only resolved by a Milan court ruling in 2019. Yet despite a complicated beginning, the relationship between the football's world and the fashion's world did not deteriorate but evolved. Two years later it won over Donatella Versace, to the point that she included some blatantly football-inspired scarves in the FW18 collection of her eponymous brand.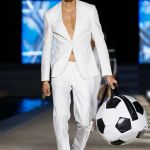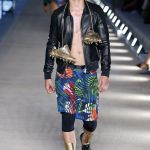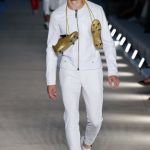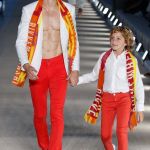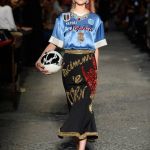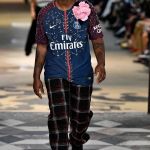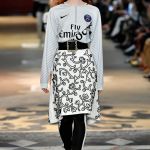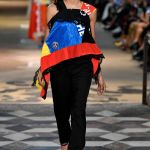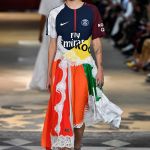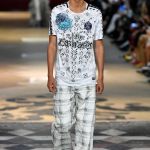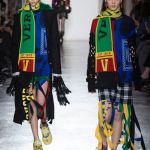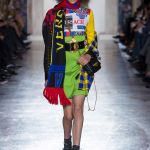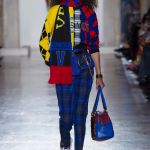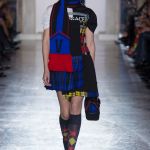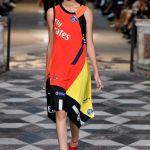 The real turning point, however, was Gosha Rubchinskiy's SS18 collection. In this collection, the football inspiration was not limited to a few small references but drew directly from the textures and materials of 1990s adidas kits, who the Russian designer had signed a collaboration with. What became coined as post-soviet aesthetic was then seen again a few years later in Demna's Balenciaga's FW20 collection where, among studded jackets and long black coats, paraded football jerseys paired together with a new sneaker that, not unlike those designed by Dirk Bikkembergs, reinterpreted the game boot in a lifestyle sense. Although never a football fan, it was Bikkembergs himself who arrived in Italy in 2000 with an unprecedented intuition: to merge fashion collections with the world of football, birthing Sport Couture. Sport Couture was an experiment that, over the years, led the German designer not only to parade in a stadium like Camp Nou and collaborate with teams such as Inter, but to buy the amateur club FC Fossombrone, which overnight found itself wearing the coolest uniforms in the entire football industry.
It was within this ambitious experiment of his that, in the years that followed, Bikkembergs used the silhouette of playing shoes to make some of his most famous sneakers to date, which were later taken up by the likes of Gucci, Louis Vuitton, and most recently Miu Miu for the SS21 show, where Miuccia became inspired by the world of sports and the spectacular language of sportswear. Demna Gvasalia commented on how football, something seemingly far removed from the Georgian designer, played in his personal baggage: «Footballers and priests were what I grew up with in Georgia. Sports, religion, obsession, and seduction are stripped of their functions leaving only the feeling that they are fashion garments».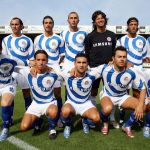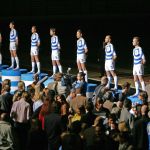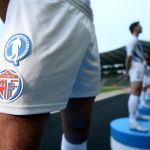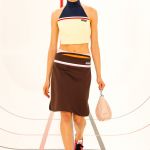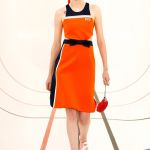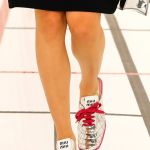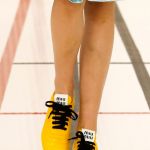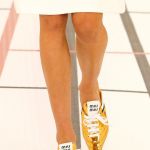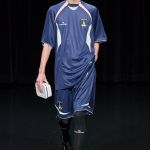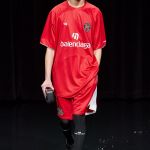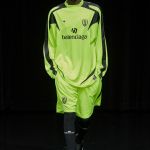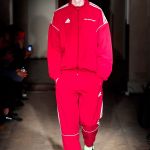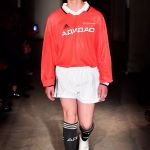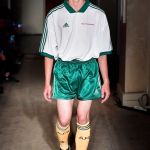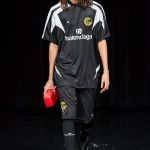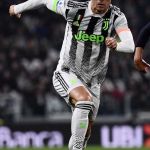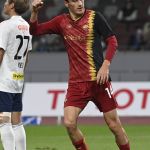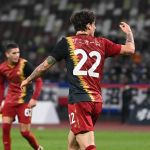 Football, and sports in general as a matter of fact, lives by very specific aesthetic codes such as game jerseys that become imprinted in the collective and popular imagination. If a jersey on the catwalk today no longer generates the uproar it did a few years ago, it is because modern fashion has assimilated the language of football by incorporating its symbols into narrative tropes: football players are models, the owners of the great fashion empires are the same of football clubs, and the jerseys created by brands become game jerseys. Only a few years ago, Palace and Juventus collaborated to create a collection whose jersey was worn by the Turin team in their match against Genoa, while on the occasion of the Derby 'della Capitale' Roma had inaugurated a collaboration with another English brand, Aries Arise. The same catwalks, which have also seen designers such as Willy Chavarria and Spencer Phipps draw from football imagery, have merged with the football pitch in a process in which the collaboration between Balenciaga and adidas would seem to be the final destination. An ideal sublimation of the process in which luxury fashion meets the football pitch's aesthetic codes in a marriage that looks more solid than ever.