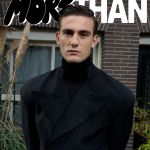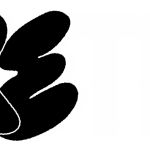 Lorenzo
Lucca
"It's time to shine"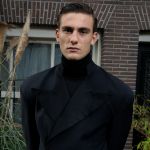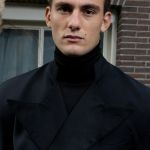 You never forget the joy of your first goal, especially when it marks a new and important chapter in your career. This was the case for Lorenzo Lucca, who after scoring his first goal in an Ajax shirt, exulted by taking the ball back to midfield. On the first ball touch during the big match against PSV, his kick in the penalty area revived the fans and definitively shone a light on him, the first Italian to wear the red and white jersey of the Amsterdam team. We have chosen to tell a story of ambition and talent in this More Than. It was at the beginning of August, when all the talk in Italy was of possible market strikes by the most emblazoned teams, from AC Milan intent on closing negotiations for Charles De Ketelaere while Inter were courting both Dybala and Lukaku and Juventus were bringing Pogba and Di Maria to Turin. At the same time, Lorenzo Lucca, after scoring goals in bunches with Palermo and Pisa, had been approached during the summer by every possible Serie A team. Out of all of them, however, Ajax surprisingly popped up and decided to invest in one of the most intriguing forwards of the new Italian generation.
"When the call came from Ajax, I had no doubts about accepting, but I still haven't got over the fact that I am the first Italian to play here. There is much more quality here, and you can really see it through the pace of the games. People usually say that Italians have a hard time going abroad, but I wanted to take this challenge to prove to myself that I could do it." Lorenzo Luca is 22 years old, over two meters tall and is the classic center forward on whom you always pass the ball, the dam on which the game rests against and against whom the opposing defenders bounce off of. A very different footballer from those usually brought up in the school of Ajax, and for such reason a fascinating project. Lucca is the first Italian to sign for the team from the Dutch capital, one of the most distinguished clubs in the world for their aesthetic and philosophy of play. "Obviously, with all due respect to where I played before, it is not comparable to Ajax. There is much more quality here, speed of play. Many people in Italy say that Italians have a hard time going abroad, but I wanted to accept this challenge and prove to myself that I can do it."
A team where Lorenzo Lucca is slowly finding his dimension, as he told us sitting at a table in Café't Smalle, a classic Dutch pub located in the Jordaan district. A club that has always had an incomparable charm and tradition, made immortal by the champions and shirts that have marked a century and more of football history. The classic white jersey with the big red vertical stripe was introduced back in 1911 when the Lancers landed in the Eredivisie and were forced to change their jersey, which was originally black and red, due to the similarity with Sparta Rotterdam's uniform: the Amsterdam team has worn them in all colors and patterns, with stripes, with the three X's symbol of the capital, with geometric and camouflage patterns, with the Three Little Birds dedicated to Bob Marley - or the latest one in chronological order - made in collaboration with Daily Paper.
A feeling of belonging that he himself felt when he wore the Ajax jersey for the first time in that always packed stadium. "The Ajax jersey is historic, and it's definitely the best one I've ever worn. I really like the third jersey made with Daily Paper though, so much so that every time we use it, I take it home." The unique jersey pays homage to the infamous Amsterdam city football grounds, the 'pleintjes' in Dutch, which have long been the training ground for legends, icons, and current rising stars of the club. Because beyond its aesthetic, Ajax has always been an inimitable school of football, a training ground in which shining talents have been forged and have gone on to travel the world conquering audiences, trophies, and records. But in addition to the Godenzonen jersey, when asked if there is another jersey to which he is particularly attached aesthetically, Lorenzo Lucca responds almost immediately, without any doubt: "the all-white Real Madrid one! Classic and without too many special details. Then beyond the aesthetic question it represents the history of Real Madrid."
"When the call came from Ajax, I had no doubts about accepting, but I still haven't got over the fact that I am the first Italian to play here."
A simple but strong aesthetic just like his, "my outfits are not that special but I like to add some out-of-the-ordinary pieces, like the white and fuchsia colourway of the Louis Vuitton Trainers, one of the many shoes in my sneakers rotation." And although Amsterdam is not known as one of the fashion capitals of Europe, Paris or Milan, the Dutch city is very active and modern in the field of fashion and especially design. A style that partly reflects the way he plays and is in line with the city where, according to an old law that regulated and penalized very wide houses, they are built in height, just like his towering height on the pitch amidst being a striker. Despite the similarities, Lorenzo Lucca's focus is entirely on the playing field: "I don't think Holland will come to influence my personal style! It doesn't depend on what city I live in or what country. Also because here, unlike the Italians, maybe they think a little less about fashion." In fact, as the Italian striker himself confessed to us, the only one who stands out among his dressing room mates is Dušan Tadic, the Serbian trequartista and captain of the Dutch team: "More or less we all dress similarly, but Dusan always arrives dressed a bit more smartly, as if he were going to an important dinner." A well-groomed appearance but without excessive formality, even though Ajax have always established themselves as one of the coolest teams on the European scene (especially in recent seasons), capable of surprising insiders and outsiders alike with their collaborations with fashion brands and their ever-recognisable aesthetic. An aspect, however, that the Italian striker in Holland noticed especially during his experience at Brescia, when he was still playing in the youth team of the historic Lombard club: "A city is not so big but it is close to Milan, people dress well when they go out, they follow fashion."
And although his interest in fashion is deep-rooted and continuous, Lucca has some dreams in the drawer that he does not intend to give up, future projects with football obviously always in the spotlight: "In all the interviews I have done I have never said what I wanted to do, but I have always set myself goals inside my head: certainly playing in the (major) national team would be a great dream, but now I think about working to achieve this goal. If I have to look further ahead at the end of my career at the moment I still see myself inside the world of football, there are many roles such as coach or sporting director. It will depend on what I am most inclined to do." In short, for everything else there is still time, for now he must confirm and prove that he has chosen the right path. A path undoubtedly full of obstacles, but one that could give the 22-year-old Italian a great international chance, waiting to consecrate himself and shine once and for all.
Special thanks to Café 't Smalle, Amsterdam.