The history of Manchester United's iconic number 7 jersey
Told by those who wore it and made it so important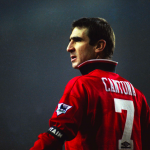 Few numbers in football are really important, real statuses that give the footballer burdens and responsibilities. One of the most significant numbers is surely number 10, worn only by those with a certain amount of imagination and obviously class, a heavy number that not everyone can wear, especially in certain teams such as Roma or Napoli, worn respectively by players of the calibre of Totti and Maradona. But beyond the legendary number 10, expression of creativity and fantasy, since 1963 thanks to George Best, the number seven in Manchester United has a very different meaning and weight. In fact, this iconic number has been worn by legendary and non-legendary players who over time have fuelled this legend, making it much more than just a number with their plays, their goals and their charisma. A story that adidas, the club's technical sponsor, has decided to tell through the protagonists who have worn it in the past such as Eric Cantona, David Beckham and Bryan Robson and who still wear it today, Ella Toone and Cristiano Ronaldo.
The five protagonists interviewed by the brand talked about the emotions, feelings and responsibilities of wearing this unique jersey. As always interesting was the interview with Eric Cantona, one of the most eccentric players of the Manchester team, a character above all off the field who obviously declared that not everyone can wear it with the collar turned up, just like he did. Also significant were David Beckham's statements to the Red Devils' microphones: "I've been a Manchester United fan probably since I was four or five years old, as far back as I can remember, and I've always been aware of how important the number seven shirt was."
A thought also shared by Cristiano Ronaldo, current number seven, who not only shared the former England midfielder's words, but also recounted the moment he inherited it: "Sir Alex Ferguson told me 'You will take the number seven', and it was the kind of moment I will never forget. I knew the history of the club's number seven, but at the same time I felt confident, after an experienced manager had delegated me to this jersey, I knew I was the right player to wear it." Despite the importance of the number, the video nevertheless shows how that jersey is undoubtedly one of the most coveted by all footballers, with which great pages of history have been written.