All the heritage and style of Umbro Speciali
The iconic football shoe model returns in a new version imagined by LC23
When Umbro's newest model of football shoe first laid its cleats on a turf in 1992, everyone realized that this was no ordinary playing pair. And indeed, 30 years after that thunderous debut, having shod the feet of the most important players of that generation and the next, becoming a piece of history thanks to their comfort, design and top-notch materials. A combination that is back in fashion again today, and which Umbro has chosen to celebrate through a collaboration with the creative talents of Leo Colacicco and his fast-rising brand LC23. These are two pieces for true collectors, a 92 shirts made with a patchwork of the iconic Umbro jerseys released in the year the Specials were born, 1992. A formidable riot of colors and patterns for a flamboyant jersey that expresses the fearless style and ingenious spirit of the players who have worn the football shoes over time.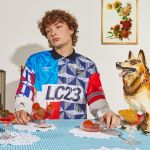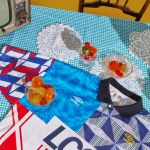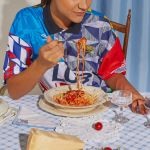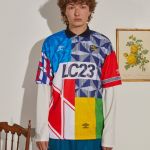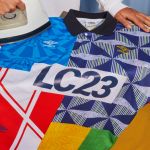 "Year after year, Umbro has designed some of football's most loved kits. 1992 – the year of the first Speciali – is a particular highlight with Italian, English and UK teams strongly represented. I selected my favourites then carefully combined them to create a one-of-a-kind pattern for true fans of Our Game," said Leo Colacicco explaining the concept behind his work.
But it wouldn't be a celebration of the shoes without, of course, an exciting and provocative new model of Specials in a very limited edition of only 30 pieces. Introducing the crochet technique into the field of game footwear, Colacicco created a fun and playful pattern with a fold-over tongue above the crocheted upper that features a floral design imagined as a tribute to the creative and colorful style of the great champions who have worn Umbro Specials. Each of the 30 pairs made required more than twenty hours of handwork carried out by Apulian artisans, a process that makes each boot unique and different from all the others. True to Speciali's tradition of Italian craftsmanship and creativity in the field, LC23's made-in-Italy contributions to its legacy will undoubtedly be collector's items for decades to come.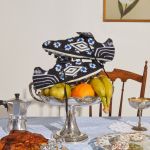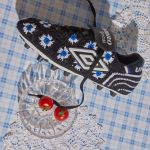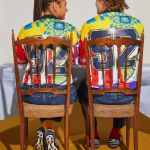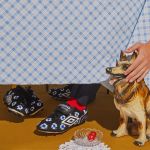 Umbro Speciali boots and jerseys will be available only through LC23's official store, here, from November 10.