The legend of Karim Benzema's wrist band
Since the French striker has been wearing it, he become unstoppable
Last night Karim Benzema received one of the most discounted and well-deserved Ballon d'Or in recent history, dominated by the rivalry between Lionel Messi and Cristiano Ronaldo, and he showed up at the France Football ceremony dressed in custom Fendi and inspired by 2Pac's look for the launch of "All Eyez On Me." Benzema has managed to win international soccer's most coveted individual award at the age of 35, reversing what was supposed to be a downward parabola and turning it into one of the greatest sports fairy tales of recent years by winning both LaLiga and the Champions League last season as an absolute hero.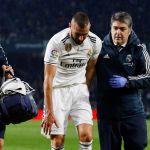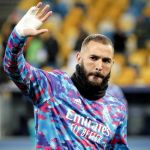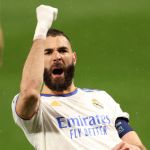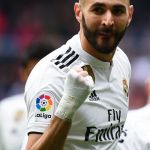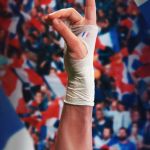 The sports story of Karim Benzema, and of Real Madrid, could have been very different from the one we are celebrating today. Before the explosion of the many absolutely talented youngsters, from Vinicius to Camavinga, and the longevity of wise old men Luka Modric, Toni Kross, and Casemiro, the Merengues seemed at the end of the cycle, unable to counter the dominance of Premier League teams in Europe. But the moment that would change the fate of Florentino Perez's club was just around the corner.
It was January 13, 2019, when Karim Benzema during a match against Real Betis broke the little finger on his right hand due to a clash with Marc Bartra. Six months earlier Cristiano Ronaldo had flown to Turin and for the first time since arriving in Madrid, Benzema had the entire Real attack in his hands. So despite the pain that forced him out at halftime, and the next game against Sevilla, the Blancos' center forward forced his way back, clutching his fractured finger with a boxing taping, and returned to his place on the field. In the next four games he scored six goals, proving that he was still the best number 9 in the world.
To avoid leaving his team without its best striker, Benzema decided not to have surgery and to continue playing all season with this band on his wrist and palm. It was a year that ended without trophies but with three different coaches on the bench - Julen Lopetegui, Santiago Solari and Zinedine Zidane - but it served to consolidate a group that already in the following season returned to win LaLiga thanks in part to Karim Benzema's goals. The French center forward scored more than 30 goals in each of the seasons after his pinky finger injury, elevating his game to a level that had previously been bottled up by Cristiano Ronaldo's role and ego.
But the busy schedule, fear of possible relapses (at least one happened in the summer of 2021) and a healthy dose of superstition turned that temporary bandage into the hallmark of the world's best striker. How can we not remember the clenched fist in celebration of the hat trick with which he overturned the challenge against Paris Saint-Germain, one of those moments in which one sensed that Carlo Ancelotti's team was pushed by some invisible force. A series of coincidences and episodes that led the Blancos to lift yet another Champions League in their glorious history, and Benzema to be the most decisive player in the world.
Perhaps thanks in part to his hallmark, that sash that like anime heroes contains a power to be unleashed in times of need. Benzema actually tried to give less spiritual answers, saying that he had surgery but did not want to leave his teammates alone for two months, or that after another similar injury he did not have time to undergo another operation, but the secret remains. And adidas on the occasion of winning the Ballon d'Or decided to make that cotton strip as golden as any ball Benzema touched last year.