Zegna presented part of its Real Madrid's collection
"Every king needs a tailor"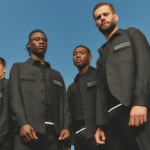 Announced in early September, during this week and coinciding with the third day of the Champions League group stages, Zegna unveiled part of the garments designed for Real Madrid. A collection that has obviously been designed exclusively for the reigning European champions and that each season will be enriched with new proposals that will be added to the brand's classic must-haves such as overshirts and chore jackets, jogger and slim pants, crewneck sweaters and the iconic Triple Stitch sneakers.
No Off-White x Milan-style varsity, the Italian brand focused on the simplicity that has always been Zegna's hallmark, producing a total back suit accompanied by a black sweater and the new Triple Stitch shoes. On the left breast pocket of the jackets is Il signifer, Zegna's symbol that has been applied in a monochrome version, representing the brand's identity and present throughout the collection. Then on the jacket breast pocket is a double stripe in white, a tribute to State Road 232, which originates in the mountains and crosses the Oasi Zegna, the free-access nature park created by the founder's commitment to sustainability that stretches over 100 km2 in northern Italy. Road 232 is a symbol, a source of inspiration for the brand, and is woven into everything the company has created over the past 112 years including the partnership with Real Madrid.
"I am really proud of this new partnership with Real Madrid, one of the most famous clubs in the world, with a loyal and enthusiastic fan base. What Zegna and Real Madrid have in common is the importance given to deep values: both of us are convinced that results, regardless of whether it's a piece of clothing or winning a soccer match, are only important if they are supported by an ethical stance," says Gildo Zegna, President and CEO of the Ermenegildo Zegna Group.
The made-to-measure garments, the result of the collaboration with Real Madrid, combine the historical values of the two brands with Zegna's contemporary aesthetic and will be available worldwide only in selected boutiques of the brand.